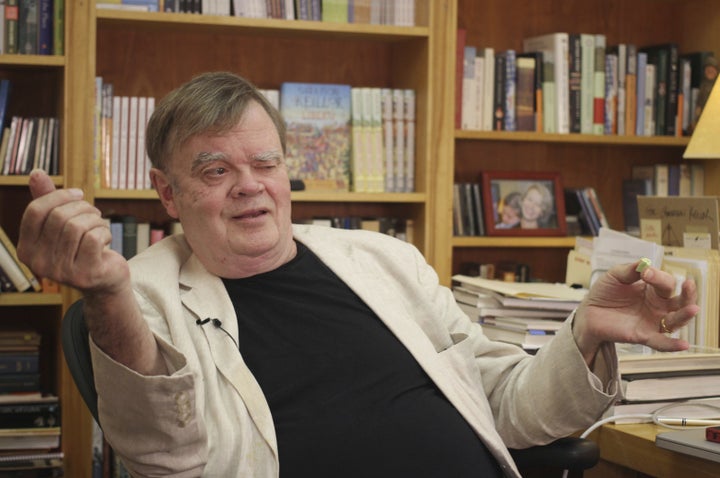 Jeff Baenen / AP
Minnesota Public Radio has fired the former host of "A Prairie Home Companion" after learning of allegations of inappropriate behavior, the company announced Wednesday.
Garrison Keillor told the AP over email that he was fired over "a story that I think is more interesting and more complicated than the version MPR heard." He did not provide additional details on the allegations.
On Tuesday, Keillor published an op-ed in the Washington Post, stating that calls for Al Franken's resignation, in light of allegations of sexual harassment against the senator, are "pure absurdity."
MPR said in a statement that it was informed of the allegation relating to his time producing "A Prairie Home Companion" last month and retained an outside law firm to conduct an investigation.
"Based on what we currently know, there are no similar allegations involving other staff," the statement reads. "The attorney leading the independent investigation has been conducting interviews and reviewing documents, and the investigation is still ongoing."
MPR is severing all ties with Keillor, including ending rebroadcasts of "The Best of A Prairie Home Companion" and distribution of "The Writer's Almanac," which Keillor still produced for syndication.
"Garrison Keillor has been an important part of the growth and success of MPR, and all of us in the MPR community are saddened by these circumstances," Jon McTaggart, President of MPR, said in a statement. "While we appreciate the contributions Garrison has made to MPR and to all of public radio, we believe this decision is the right thing to do and is necessary to continue to earn the trust of our audiences, employees and supporters of our public service."
BuzzFeed News has reached out to Keillor for additional comment.
Source: https://www.buzzfeed.com/usnews.xml