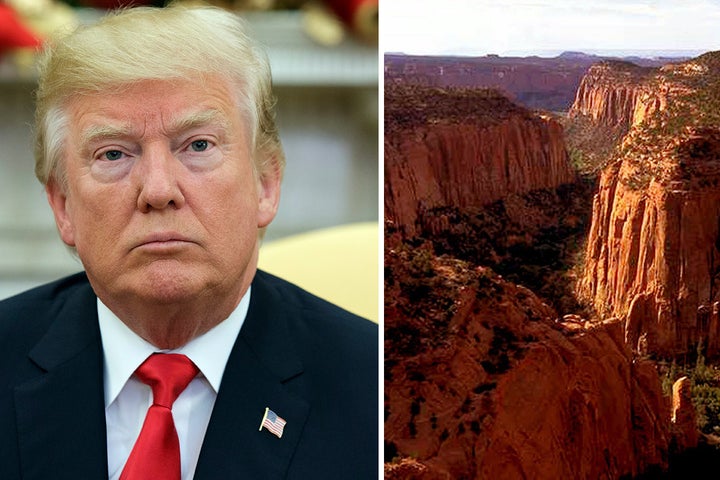 AP
President Trump on Monday slashed a pair of national monuments in Utah, marking an unprecedented rollback of his predecessor's legacy, and prompting protests and threats of lawsuits from conservation groups as well as praise from western conservatives.
During a speech in Salt Lake City, Trump said proclaimed that "public lands will once again be for public use," saying that he would reduce the size of Bears Ears and Grand Staircase-Escalante national monuments, both in southern Utah.
"I've come to Utah to take a very historical action," Trump said of his announcement. "To reverse federal overreach and resort the rights of this land to your citizens."
Interior Secretary Ryan Zinke told reporters Monday morning that Bears Ears would go from about 1.3 million acres to 220,000 acres. Grand Staircase-Escalante would be reduced from 1.8 million acres to about 1 million acres. Previously leaked maps indicated the two monuments would also be broken into a total of five smaller preserves.
President Obama created Bears Ears National Monument in the final days of his presidency. It was the result of a years-long lobbying effort from a coalition of Native American tribes and conservation groups. The designation was vehemently opposed by Utah's congressional delegation, with multiple lawmakers vowing to work to undo the designation. Utah lawmakers also said they would attempt to modify the Antiquities Act, the 1906 law that allows presidents to create national monuments.
President Clinton created Grand Staircase-Escalante National Monument in 1996.
Trump announced the changes during his first visit as president to Utah. The visit was met with multiple days of protests, including gatherings Monday at the state capital and elsewhere in Salt Lake City.
Demonstrators in Salt Lake City displayed signs condemning the plan to shrink the monuments.
The protests highlight the intensity that surrounds the larger debate over how to treat public lands. In western states such as Utah, Nevada, and Idaho, the federal government owns the majority of the total land. Some of that land is used for popular national parks, such as Zion and Arches, as well as park-like monuments including Bears Ears and Grand Staircase-Escalante.
However, vast swaths of the public land in the west are not part of designated preserves and are available for activities such as grazing.
National monuments are a particular source controversy because the Antiquities Act lets presidents create them without congressional approval. Resistance to monuments led Trump earlier this year to order Interior Secretary Ryan Zinke to review all monuments created since 1996. The review wrapped up in August, and the announcement Monday in Utah was prompted by Zinke's recommendations.
During his speech Monday, Trump repeatedly characterized the creation past monuments as federal "overreach," and said past presidents had "abused the purpose, spirit, and intent" of the Antiquities Act. He also said that the "timeless bond" Utahns have with their land "shouldn't be replaced by the whims of regulators."
"Our precious national treasures must be protected and they from now on will be protected," the president added.
But a host of Native American and environmental groups disputed that and condemned the announcement Monday.
This is a developing story. Check back soon for updates.
LINK: Obama Creates Two More National Monuments, And A Possible Land War
LINK: Trump Plans To Shrink Two National Monuments, Setting Up A Showdown Over Public Lands
Source: https://www.buzzfeed.com/usnews.xml