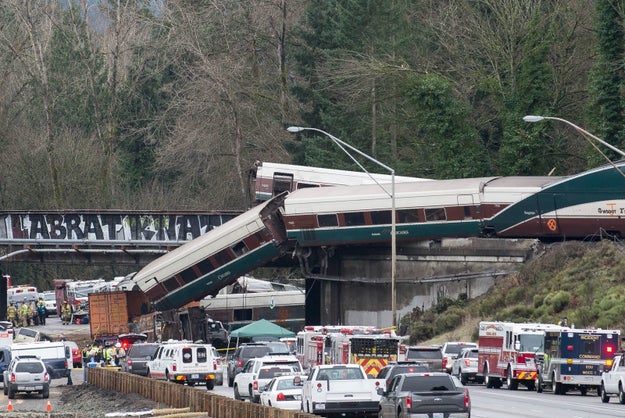 Kathryn Elsesser / AFP / Getty Images
The train that veered off its tracks in Washington on Monday, killing at least three people, had automatic braking technology installed, but it had not yet been cleared for use, an official said.
Known as Positive Train Control, or PTC, the technology uses computers, wireless radios, and GPS to monitor and automatically slow trains down when the system senses they are going too fast or might crash. It was designed to compensate for human error, such as an operator falling asleep or failing to notice a warning sign.
The National Transportation Safety Board (NTSB) is expected to spend months determining what exactly caused the Washington derailment, but federal investigators said the Amtrak Cascades passenger train was traveling 80 mph through a 30 mph bend on its way to Portland before it derailed and plunged into traffic below on an interstate near Tacoma. In addition to the dead, more than 70 people were taken to hospitals.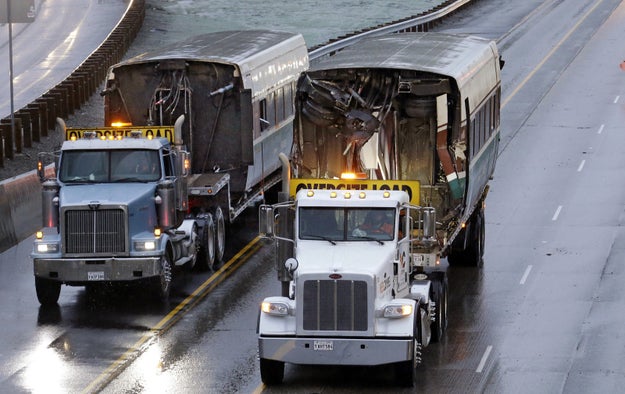 Two damaged train cars are removed atop flatbed trailers from the scene of Monday's fatal Amtrak train crash onto Interstate 5.
Elaine Thompson / AP
"Had there been a diligent effort to ensure Positive Train Control was in place, this accident probably wouldn't have happened," said Keith Millhouse, a rail safety expert and former board chairman of Southern California's Metrolink commuter rail system. "It's reckless not to have this safety technology in 2017."
Congress ordered that all US rail lines install PTC by 2015 after 25 people were killed when two trains collided outside Los Angeles in 2008. Investigators said the passenger train engineer had been texting just moments before his commuter train skipped a red light and collided with a Union Pacific freight train.
But railroad companies pushed back, calling the timeline unrealistic due to high costs and technology hurdles, so Congress gave them until the end of 2018 and, if necessary, 2020.
A spokeswoman for the Washington Department of Transportation, Janet Matkin, told BuzzFeed News that PTC was installed in the train that derailed Monday, but had yet to be certified for use.
Sound Transit, which owns the tracks south from Tacoma to Dupont, did not respond to BuzzFeed News' request for comment, but spokesman Geoff Patrick told USA Today that while the system had yet to be linked and certified as operational, they were "well ahead" of the December 2018 deadline.
The deadly derailment bears similarities to the massive Amtrak crash in Philadelphia in 2015, when an engineer, without the oversight of PTC, flew around a curb at 106 mph, sending passenger cars off the rails and killing eight people.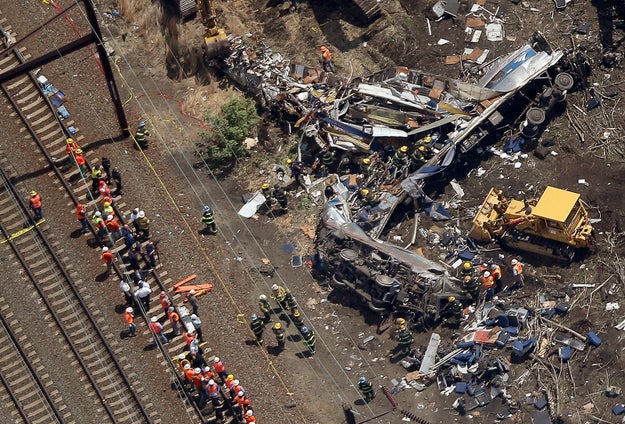 Investigators and first responders work near the wreckage of an Amtrak passenger train in north Philadelphia in 2015.
Win Mcnamee / Getty Images
Across the US, the safety technology is currently active on just 23% of all passenger rail lines and 37% of freight routes.
Millhouse said rail companies should also install inward-facing cameras that monitor the actions and behavior of engineers.
"They act as a deterrent to bad conduct," he said. "They capture cell phone use, show if someone is not paying attention, or if they've nodded off. They provide forensic evidence of what the engineer was doing at the time of the accident."
But Amtrak has made progress, installing PTC in 49% of its trains and 67% of its tracks, according to the Federal Railroad Administration.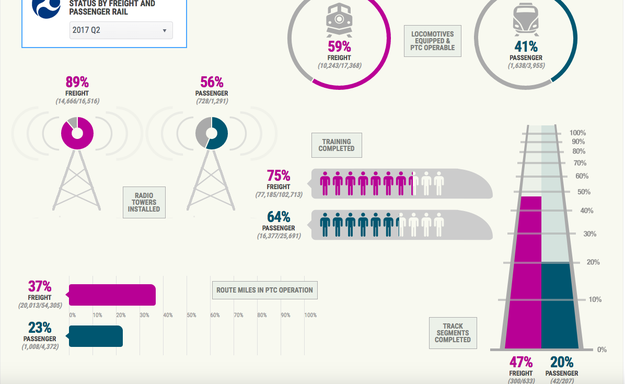 NRA / Via fra.dot.gov
Complicating the rollout is the sheer size and price tag of the effort. Costing up to $22.5 billion over 20 years, rail companies need to root cell towers, receivers, and program software specific to certain trains, which the Association of American Railroads calls "an unprecedented challenge on a scale that has never been attempted on railroads anywhere in the world."
Millhouse acknowledged the costs involved but said there was no alternative.
"It is a very complicated technology, it's expensive, and it takes time to implement, but without it, it's like using one of those old brick cell phones in the age of an iPhone," Millhouse said. "It doesn't make sense."
Earlier this month, local officials said they had safety concerns about the speeds and crossing of the new train route, which now cuts through a few communities rather than winding along Puget Sound coast. In 2013, the city of Lakewood sued to stop construction, fearing the number of track crossings could lead to a collision involving cars or pedestrians. The suit was dismissed in 2014.
Lakewood Mayor Don Anderson has repeatedly blasted Washington Department of Transportation for not enacting safety enhancements, predicting that the new line would lead to "somebody getting killed."
"Come back when there is that accident, and try to justify not putting in those safety enhancements," he said during a heated hearing in 2013. "It's a great project for bureaucrats terrible for our community. When someone is killed I want someone from WashDOT rail back here."
In Dupont, where the crash occurred, Mayor Mike Courts said officials had been training for train derailments for several months given that a fast-moving train would now be running through his town 14 times per day.
"We realized we should be prepared for this because it endangers our residents," he said. "We should learn to deal with these accidents because they happen when you least expect it."
While he was troubled about another aspect of the new route — trains intersecting with roadways — he said Tuesday that the crash has intensified his concerns that rail officials cut corners with safety.
"If you have the technologies to prevent these crashes, why aren't you using those?" he said. "They are going to have to work really hard to sell that line to people in my town after it jumped the track and killed people on its first day."
LINK: Amtrak Train That Derailed Off Highway Overpass Was Going 80 MPH In A 30 MPH Zone
LINK: Rail Enthusiast Who Wanted To Be Among The First On The Inaugural Amtrak Route Was Killed In Derailment
Source: https://www.buzzfeed.com/usnews.xml