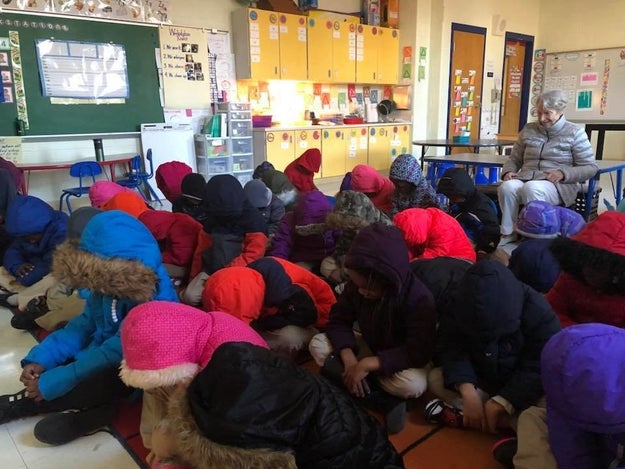 Facebook/Danni WIlliams / Via facebook.com
After reports of frigid indoor classroom temperatures, photos of students bundled up in winter clothes in class, and the teachers union calling the conditions "unfair and inhumane," all Baltimore City Public Schools (BCPS) were closed on Thursday.
As extremely low temperatures continued into the new year, BCPS put out a notice on Tuesday writing that the weather had put a "strain on many of our school buildings."
"We have many schools with leaky windows and outdated heating
systems that have a hard time keeping up," the statement read.
The following day, pictures of students wearing winter coats, hats and gloves indoors emerged, prompting widespread condemnation from teachers, parents and city residents.
One photo, posted by a teacher on Facebook, showed indoor temperatures in the low 40s. Another photo showed a classroom full of students wearing winter coats with the hoods up.
BCPS closed six schools on Wednesday due to boiler problems, but it became apparent that problems were widespread, with burst pipes and failing boilers reported at numerous other schools.
BCPS CEO Dr. Sonja Santelises went on Facebook Live on Wednesday to address the concerns, citing "unprecedented" weeks of cold temperatures coupled with aging buildings as the primary reason behind the cold indoor temperatures.
"I think today we've had probably at least 60 building impacted by cold," Dr. Santelises said on Wednesday, adding that the number was around one-third of all schools in Baltimore. Dr. Santelises said that many of those issues were addressed by maintenance staff during the day.
On Thursday morning, BCPS announced that all schools would be closed. They did not provide further explanation if the schools' closures were prompted by the impending storm that hit much of the Eastern US on Thursday or if the closures were prompted by the reports of cold indoor temperatures at schools.
Local Baltimore TV news station WJZ reported that teachers were bringing their own space heaters into the classrooms and that students could see their breath in the hallways.
"Any good mother would take their children out of school," Chastity Spears, a parent, told a reporter. "The water is cold! It's unbearable. There's icicles in the classroom. The cold water jug is frozen solid. It's inhumane for these children."
Given the cold temperatures forecasted for the remainder of the week, Marietta English, the president of the Baltimore Teachers Union, called on Dr. Santelises to close all schools "until your facilities crew has time to properly address and fix the heating issues" in the city.
On Twitter, Maryland Lt. Gov. Boyd Rutherford said he "fully funded Baltimore City Schools" during his time in office. Rutherford said local elected officials, local school boards and the superintendent, "who are both under the City," had to answer questions about school conditions.
"If they were my kids, I'd be down there at the Superintendent's office seeking answers! I'd be calling the local officials asking why this is happening?," Rutherford wrote.
BuzzFeed News has reached out to BCPS, and the Baltimore Teachers Union for comment.
Source: https://www.buzzfeed.com/usnews.xml