At least three people are dead and more than 40,000 are without power.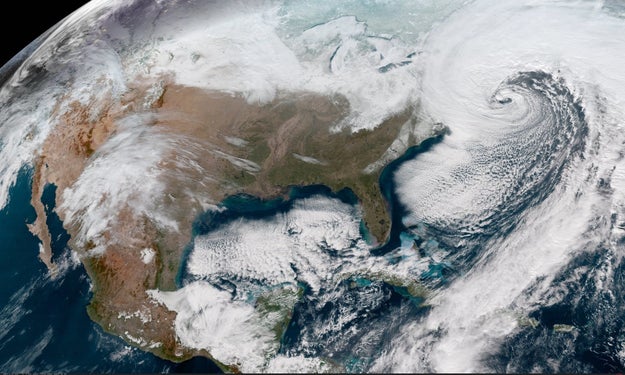 The East Coast of the United States, as seen by a NOAA geostationary satellite Thursday afternoon.
NOAA
At least three people are dead and more than 40,000 have been left without electricity Thursday as the first major snowstorm of 2018 pummels the East Coast.
The so-called "bomb cyclone" is poised to drop as much as 18 inches of snow from South Carolina to Maine, along with hurricane-force winds, according to the National Weather Service.
In North Carolina, three people died when, as result of the storm, vehicles ran off snow-covered roads, Gov. Roy Cooper said.
In addition, at least 17 exposure deaths from Texas to New England have been attributed to the dangerously cold temperatures before the storm.
Nearly 5,000 flights have been cancelled due to the storm and New York City's JFK and La Guardia airports have shut down.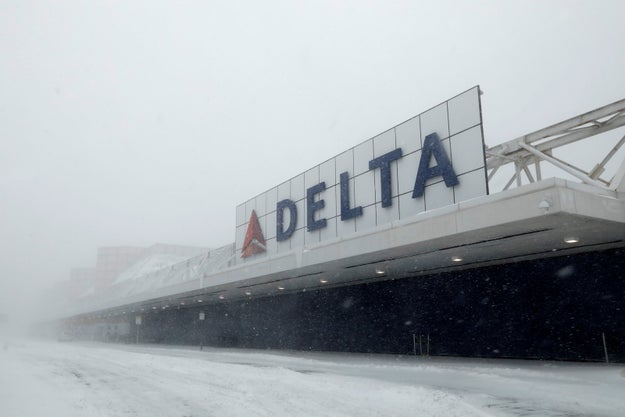 Mike Segar / Reuters
Per the FAA website, Long Island Mac Arthur Airport in New York City is also closed. The airports are expected to open later Thursday night.
The majority of those without power are located in the Carolinas and Virginia, where approximately 31,000 households have no electricity. Some customers in Florida also don't have power.
The entire Massachusetts coast is at risk of major coastal flooding right now from the storm. "A few low spots could see inundation up to 6 feet," according to the National Weather Service, and "waves on top of the high water levels will likely damage vulnerable decks, stairs, and docks."
This is a developing story. Check back for updates and follow BuzzFeed News on Twitter.
Source: https://www.buzzfeed.com/usnews.xml