A Wisconsin school district will pay $800,000 to a transgender high school student as part of settlement over a discrimination lawsuit filed by him.
Ash Whitaker, a former Tremper High School student, had sued the Kenosha Unified School District (KUSD) in July 2016 for banning him from the boys' bathroom, subjecting him to daily surveillance, and threatening disciplinary action for using the boys' bathroom.
Whitaker graduated high school in June 2017, days after the Seventh Circuit Court of Appeals ruled in favor of his challenge against the school district, and upheld a lower court's decision allowing him to use the boys' bathroom for his senior year.
As part of the settlement, KUSD withdrew its US Supreme Court appeal challenging that decision, according to the Transgender Law Center, which represented Whitaker in the case.
The settlement also forbids KUSD from discriminating against Whitaker in the future if he decides to return to campus as an alumnus. The school board voted 5–2 Tuesday on the $800,000 settlement with Whitaker, Kenosha News reported.
"I am deeply relieved that this long, traumatic part of my life is finally over and I can focus on my future and simply being a college student," Whitaker said in a statement released by the Transgender Law Center.
"Winning this case was so empowering and made me feel like I can actually do something to help other trans youth live authentically," he said.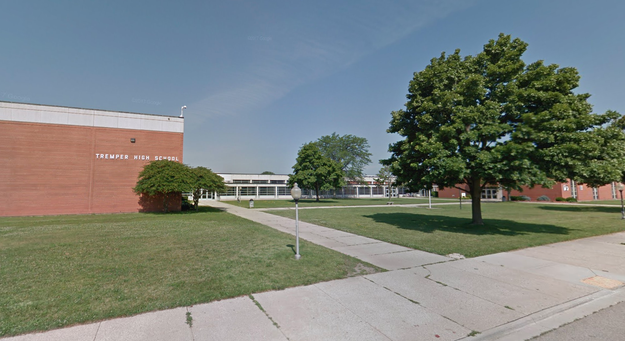 Tremper High School
Google Maps
Whitaker alleged that his former high school discriminated against him by proposing that all trans students should wear bright green labels to monitor their restroom use. In his complaint, Whitaker said that school officials insisted on calling him by his birth name and using female pronouns for him.
The school initially forbade him for running for junior prom king and isolated him from his peers during a week-long orchestra camp, according to his complaint. Because the school "invasively" monitored his restroom use, Whitaker tried to avoid using the bathroom altogether, and suffered from depression and anxiety, the lawsuit alleged.
Now, KUSD will pay $800,000 "for the harm Ash experienced as a student and his reasonable attorneys' fees and costs," the Transgender Law Center said.
"This settlement sends the clear message to all school districts that discriminating against transgender students is against the law and harms students who simply want to go to school," Joseph Wardenski, one of Whitaker's attorneys, said in a statement.
"My message to other trans kids is to respect themselves and accept themselves and love themselves," Whitaker, who is now a freshman at the University of Wisconsin-Madison, said. "If someone's telling you that you don't deserve that, prove them wrong."
LINK: Federal Appeals Court Rules In Favor Of Transgender Student
Source: https://www.buzzfeed.com/usnews.xml