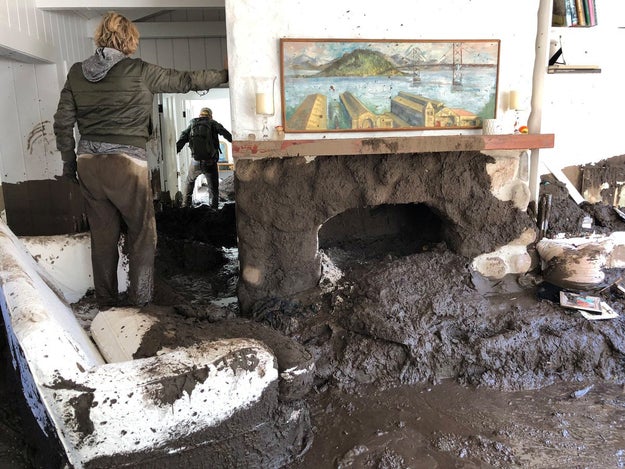 Family members inspect the inside of a Montecito, California, home Wednesday.
Handout . / Reuters
Hundreds of Southern Californians were trapped in their homes Wednesday and two dozen others remained missing after colossal mudslides a day earlier killed 15 people and buried the region in several feet of soil and debris.
The mudslides were prompted by Southern California's first major storm of the season, which dumped several inches of rain on burn areas of recent wildfires, including the state's largest-ever blaze. By Wednesday morning, the death toll stood at 15 with 24 others still missing. Another 300 people were trapped in their homes in Santa Barbara County's Romero Canyon, according to multi-agency spokesperson Rosie Narez.
"The only way to really get them out is through aerial rescues," Narez told BuzzFeed News.
Worse still, the homes where people remained trapped lacked potable water, as well as gas and electricity. Rescues began Wednesday morning and the silver lining, Narez said, was that most of the stranded people appeared to be okay.
Authorities had not identified any of the victims Wednesday, but Thomas Aquinas College said Roy Rohter, a friend and benefactor of the school, was among the dead. His wife reportedly suffered injures but was in stable condition.
Images from the region showed massive devastation, with both homes and roads completely covered in water, mud, and debris.
About 100 homes and eight commercial buildings were destroyed by the torrent of water and mud, while another 300 homes were damaged and 1,500 remained threatened.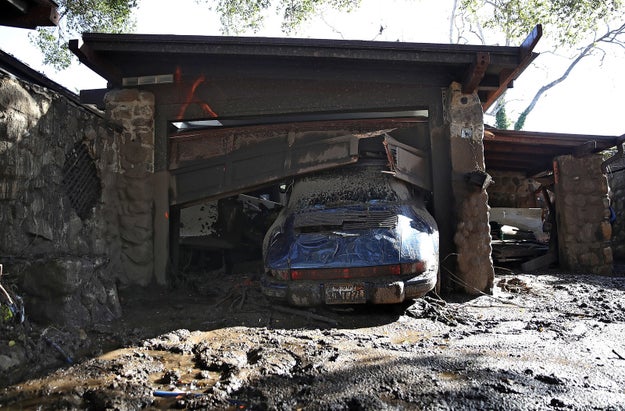 A damaged home in Montecito, California, on Wednesday.
Justin Sullivan / Getty Images
On Wednesday morning, Oprah Winfrey, who owns a home in the wealthy enclave Montecito, posted a video of herself standing in knee-deep sludge and describing the destruction in her neighborhood.
"Oh my God," she said. "So, there used to be a fence right here. Thats my neighbor's house — devastated. And debris is everywhere."
Video also showed a flooded section of US Highway 101 — a major thoroughfare in the region — completely flooded. The water was deep enough that a Range Rover could be seen drifting through the muck.
Wednesday afternoon, Caltrans, the state agency that manages the freeway, tweeted a photo showing a section the highway completely submerged and announced that the stretch of road would remain closed until Monday.
Commenting on the destruction Tuesday, Santa Barbara County Sheriff Bill Brown said the scene "looked like a World War I battlefield." The California National Guard was deployed to help deal with the damage.
Homes surrounded by mud in Montecito, California, Tuesday.
Handout . / Reuters
The Santa Barbara County Public Health Department issued a water boil notice and ordered restaurants, markets, and other food facilities in the area closed.
Officials also set up an "exclusion zone" in the Montecito area, which bars the presence of all non-first responders. People found walking the streets could face fines or, potentially, arrest, Narez said.
Narez described the situation as "still very much a search and rescue" operation Wednesday, but added that officials were making progress and the rain, at least, was gone.
"The weather," she added, "seems to be cooperating."
LINK: At Least 15 People Are Dead After Mudslides Hit A Southern California Beach Community
Source: https://www.buzzfeed.com/usnews.xml