The 7.6 temblor struck off the coast of Honduras. Tsunami alerts were issued for potentially destructive waves across much of the Caribbean.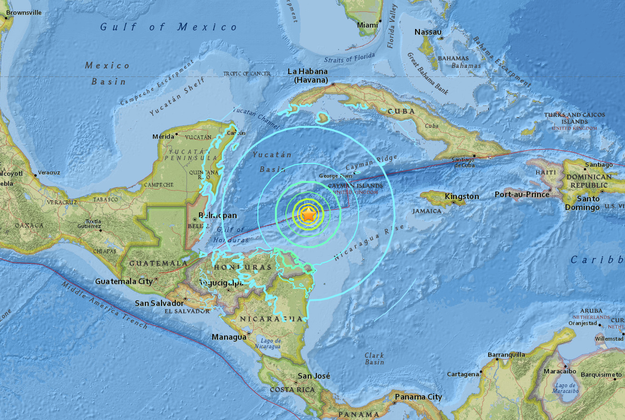 USGS
A powerful earthquake struck off the coast of Honduras in the Caribbean Sea, triggering tsunami alerts throughout the region.
The 7.6 magnitude temblor struck around 9:51 pm EST, according to the US Geological Survey. The quake's epicenter was located about 27 miles northeast of the Great Swan Island, off the coast of Honduras.
Tsunami advisories were in effect following the earthquake for Puerto Rico and the US Virgin Islands. Sea level fluctuations could reach the two US territories shortly after midnight, though forecasters expected waves smaller than 1 foot.
Tsunami waves of up to 3.3 feet were possible in Jamaica, Honduras, Belize, Cuba, Mexico, and the Cayman Islands.
This is a developing story. Check back back later and follow @BuzzFeedNews on Twitter for updates.
Source: https://www.buzzfeed.com/usnews.xml