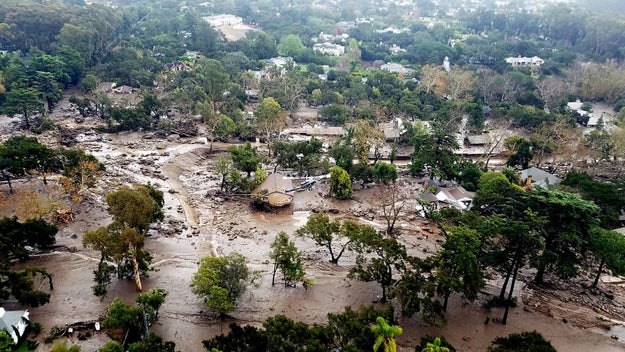 A residential neighborhood in Montecito, California, as seen on Wednesday.
Matt Udkow / AP
A 3-year-old girl and several other children are among the 17 dead after flooding and mudslides swept through Southern California on Tuesday, destroying homes and burying roads in the process.
Kailly Benitez, 3, was the youngest victim, the Santa Barbara County Sheriff's Office said Thursday. Three other children were killed in the mudslides: Peerawat Sutthithepn, 6, Jonathan Benitez, 10, and Sawyer Corey, 12. The oldest person killed was James Mitchell, 89.
The cause of death for all of the victims was listed as "multiple traumatic injuries due to flash flood with mudslides due to recent wildfire." They were all Montecito residents.
The destructive flooding and mudslides began before dawn Tuesday when the first significant storm of the season dumped several inches of rain across the wildfire-scarred hills of Southern California, including in Santa Barbara County where the state's largest recorded wildfire raged less than a month ago. As the rain came down, hillsides previously covered in vegetation gave way, releasing powerful flows of mud, loose branches, rocks and other debris into neighborhoods.
The slides destroyed about 100 homes and damaged 300 others, officials said Wednesday. Eight people still remain missing.
LINK: Death Toll Climbs To 17 As Crews Continue Search For California Mudslide Survivors
LINK: This Is How California Officials Alerted Millions Of People As Wildfires Approached Homes
Source: https://www.buzzfeed.com/usnews.xml