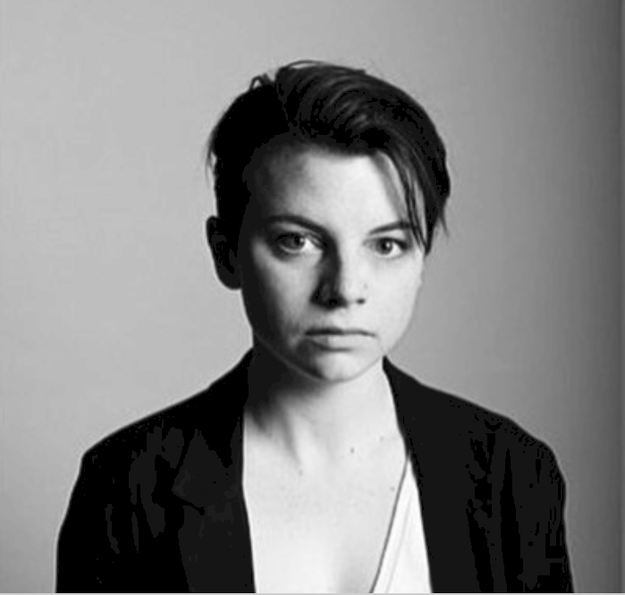 Moira Donegan/Twitter
Moira Donegan, a former assistant editor at the New Republic, revealed Wednesday that she created the "Shitty Media Men" list, a controversial online document that crowdsourced anonymous rumors and allegations of sexual misconduct against at least 70 men in the media and publishing industries.
In a lengthy first-person essay for The Cut, Donegan, 28, said she created the spreadsheet in October so that women could privately share their stories of harassment "without being needlessly discredited or judged" and where they could warn each other about men who they perceived as abusers and harassers in order to stay away from. (Several male BuzzFeed employees were among those named on the list).
She emphasized the importance of "whisper networks" — private, informal alliances where women can share "open secrets and warn women away from serial assaulters."
Within a few hours, the document was widely shared among women who anonymously added names of men and listed accusations against them, ranging from being rude in meetings to making inappropriate remarks to rape.
Donegan said she added a disclaimer to the document asking readers to "take everything with a grain of salt," amid concern about the veracity of some of the claims.1
Donegan wrote that she took the document offline just 12 hours after creating it, when she learned that BuzzFeed News was going to report on its existence. But by then, the list had already gone viral. Several screenshots were circulated and the document itself was posted on Reddit.
By the time she took it down, Donegan said the list contained names of more than 70 men ranging in age from their 20s to their 60s. Fourteen of those names were highlighted in red to denote that they had been accused of sexual assault or rape by more than one woman.
Despite criticism that the document was irresponsible and vulnerable to false claims, or that it lumped together a wide range of allegations, some men who appeared on the list resigned or were fired after their companies investigated claims.
While acknowledging the problem with unsubstantiated allegations, Donegan wrote, "It's impossible to deny the extent and severity of the sexual-harassment problem in media if you believe even a quarter of the claims that were made on the spreadsheet."
Donegan said that after the document was exposed, she lost her friends and her job. However, she did not elaborate on the circumstances that led to losing her job. She did not respond to BuzzFeed News' request for comment.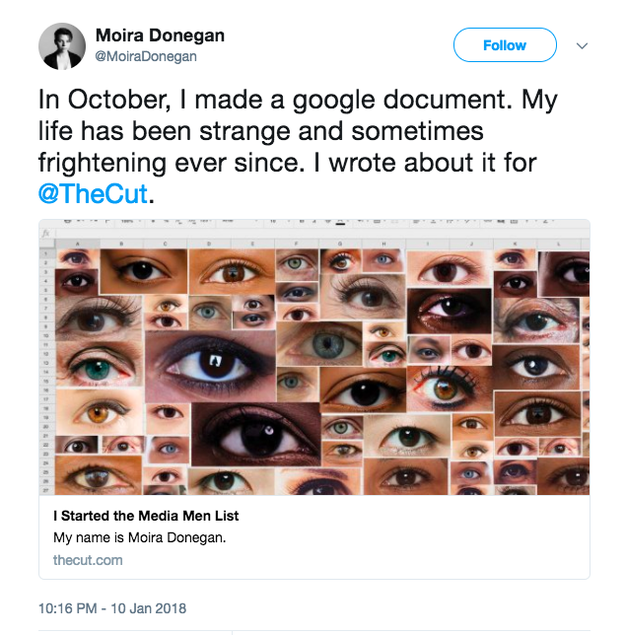 Donegan wrote that she lived in fear of being exposed and the inevitable harassment that would follow.
She said her fear grew after rumors spread online that writer Katie Roiphe was planning to expose her identity in a forthcoming piece for Harper's magazine.
According to Donegan, Roiphe had emailed her in December asking for comment on a story about the "feminist moment" but did not mention her being the creator of the list. Donegan said she declined, but that this week, a fact checker for Harper's told her that Roiphe had identified her as the woman "widely believed to be one of the creators of the Shitty Men in Media List."
Hours before Donegan outed herself as the list's creator, Roiphe told the New York Times that she did not know the creator's identity and would "never" identify them if they didn't want to be named. Roiphe did not respond to BuzzFeed News's request for comment.
A Twitter campaign, led by editors and writers, also sought to pressure Harper's not to reveal the identity of the list's creator to protect her from potential threats and harassment.
"The outrage made it seem inevitable that my identity would be exposed even before the Roiphe piece ran," Donegan wrote. "All of this was terrifying. I still don't know what kind of future awaits me now that I've stopped hiding."
After Donegan's essay was published, many women, including those in media, hailed her as hero and applauded her bravery in going public with her story.
Some noted the impact that Donegan's list had in getting men fired after the allegations contained on the list were investigated.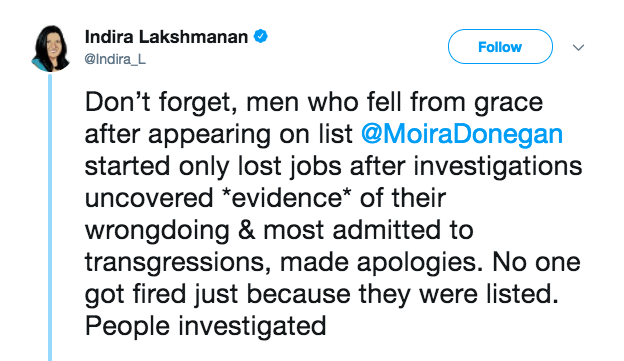 Other women said that they wished similar spreadsheets had been created decades ago.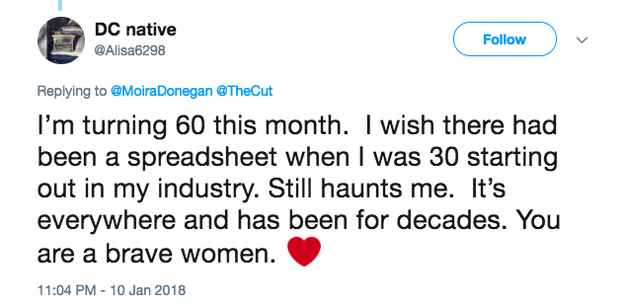 Even those who were critical of the list, praised Donegan for her intent and attempt to provide transparency.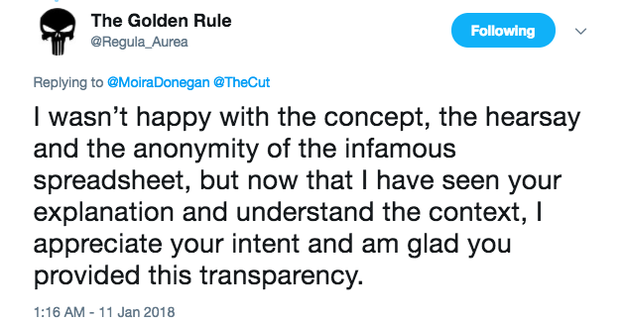 LINK: What To Do With "Shitty Media Men"?
Source: https://www.buzzfeed.com/usnews.xml