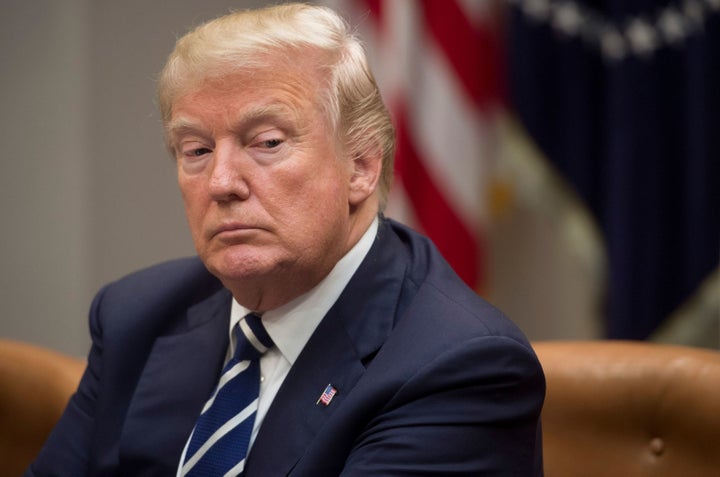 Saul Loeb / AFP / Getty Images
President Trump on Friday insisted on Twitter he didn't call places like Africa, El Salvador, and Haiti "shitholes" during an immigration conversation with lawmakers, after intense criticism that his remarks were racist.
Oddly, shortly after it was revealed on Thursday he made the comments, a White House spokesman didn't deny he used the word "shitholes."
Trump claimed it was "not the language used" during a confusing Twitter rant on Friday morning.
"The language used by me at the DACA meeting was tough, but this was not the language used. What was really tough was the outlandish proposal made – a big setback for DACA!" he said.
A United Nations human rights spokesperson said on Friday morning that the comment could "potentially damage and disrupt the lives of many people".
"If confirmed these are shocking and shameful comments from the president of the United States, I'm sorry but there is no other word for this but racist," Rupert Colville told reporters in Geneva.
"You cannot dismiss entire countries and continents as 'shitholes'," he said, adding that the comment "legitimizes the targeting of people based on who they are".
"This isn't just a story about vulgar language, it's about opening the door to humanity's worst side."
In Botswana, the government summoned the US Ambassador to "express its displeasure" at the comments.
"The Botswana Government has also enquired from the US Government through the Ambassador to clarify if Botswana is regarded as a 'shithole' country given that there are Botswana nationals residing in the US, and also that some of Botswana may wish to visit the US," read a press release published on Friday.
Source: https://www.buzzfeed.com/usnews.xml