Ambassador Pete Hoekstra had spent weeks refusing to withdraw his 2015 anti-Muslim comments that the Netherlands had "no-go zones" and "politicians being burned."
US Ambassador to the Netherlands Pete Hoekstra, appointed by President Trump and sworn in by Vice President Pence in December, has spent the first month in his new job disputing anti-Muslim comments he made in 2015.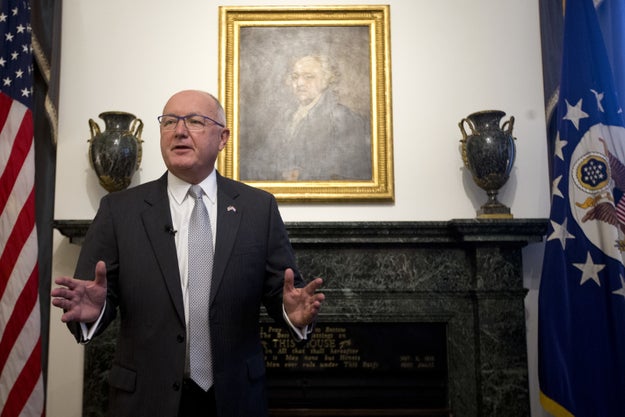 Peter Dejong / AP
During a very awkward press conference on Wednesday after he arrived in the Netherlands, Hoekstra refused to comment on his "no-go zones" statement, declaring: "I am not revisiting the issue."
[youtube https://www.youtube.com/watch?v=Qj9SNJpq2W0&w=560&h=349]
Multiple journalists quizzed him, including Roel Geeraedts, with Dutch channel RTL Nieuws, who asked: "If you're truly an honest and wise man, could you please take back the remark about burned politicians or name the politician that was burned in the Netherlands?"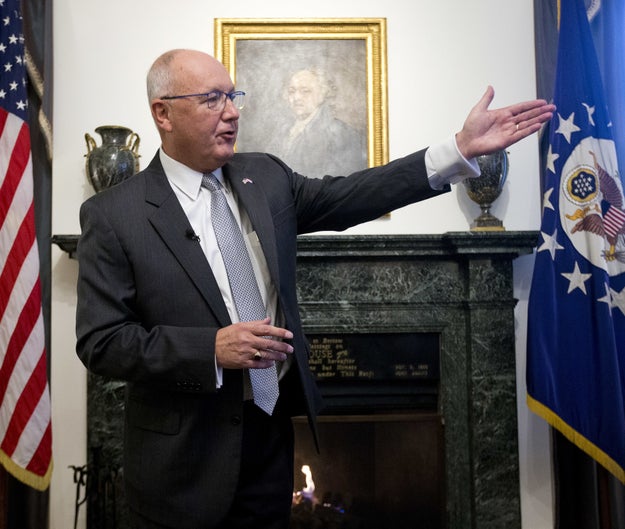 Hoeskra simply responded, "Thank you."
"This is the Netherlands, you have to answer questions," said another reporter.
Five times reporters asked Hoekstra to clarify or withdraw or elaborate on his 2015 comments, and he did refused.
Peter Dejong / AP
He said he mixed up the Netherlands with another country (although he did not specify which).
"While you know there have been other issues in other countries in Europe, you know that has never been the circumstances here. That was a wrong statement. That was just wrong," he said.
"How often does a person have to say that he regrets something?" asked Hoekstra.
LINK: This US Ambassador Said On Camera His Anti-Muslim Comments Were "Fake News" — Then Claimed He Didn't Say "Fake News"
LINK: The US Ambassador To The Netherlands Refused To Answer A Question In A Very Awkward Press Conference
Source: https://www.buzzfeed.com/usnews.xml