Fifty people had to jump off a shuttle boat in Florida after it suddenly erupted into flames Sunday on its way to an offshore casino.
A woman has died after a shuttle boat carrying about 50 people to a casino off Florida's Gulf Coast erupted into flames Sunday afternoon, authorities said.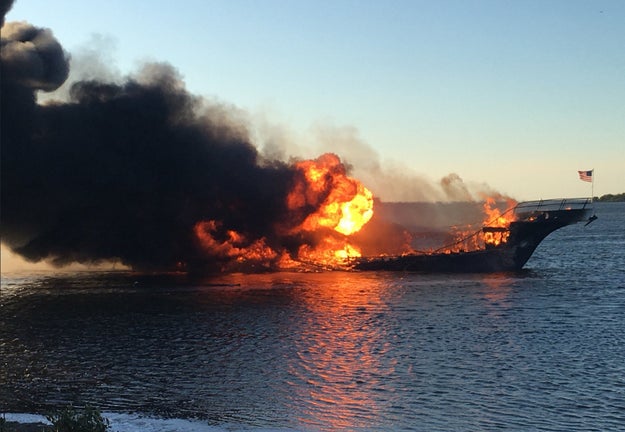 Pasco County Fire Rescue via AP
Shortly after the boat left the dock, the captain spotted smoke streaming from the engine room and decided to turn back, Chief Gerard DeCanio of the Port Richey Police Department told the New York Times. However, the fire grew so quickly that he veered toward shore to enable people to jump off into shallow water.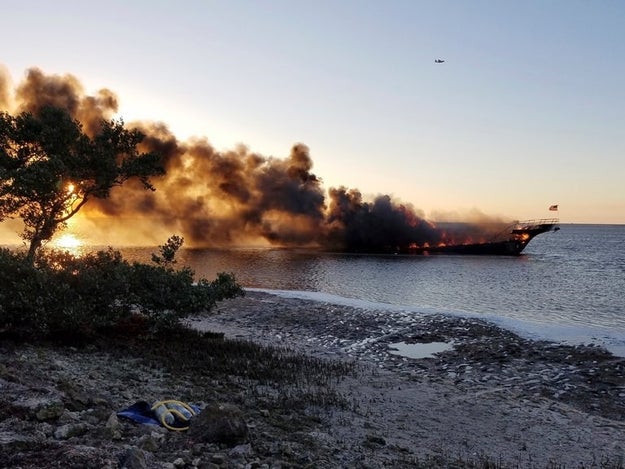 Pasco County Fire Rescue via AP
The 42-year-old woman died Sunday night, about an hour after she arrived at the hospital, Regional Medical Center Bayonet Point spokesman Kurt Conover told the Associated Press. She became ill after fleeing the burning boat.
Emergency responders ran into the cold water to help rescue about a dozen people who were still trying to get to safety. About 15 people were treated for injuries like chest pain and smoke inhalation, according to the Associated Press.
The shuttle boat routinely takes people back and forth from the Tropical Breeze casino ship offshore near Port Richey, about 35 miles northwest of Tampa, since it cannot legally operate close to land.
Harrowing photos and video from authorities and witnesses show thick plumes of smoke and orange flames completely swallowing the small shuttle boat.
Bakr Jandali was at home when he heard screams and shouts from the water. He told the Tampa Bay Times that the fire was moving so rapidly that passengers didn't have "much time to decide whether or not to jump."
[youtube https://www.youtube.com/watch?v=lr0KNqsHY3g&w=560&h=349]
The 19-year-old watched in horror with his family and neighbors as the smoke quickly turned into fire and flames spread from the rear, forcing dozens of people onto the bow, the Tampa Bay Times reports.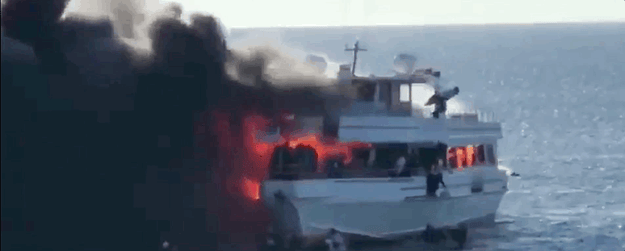 Bakr Jandali
They then waded into the frigid water to the beach not far from his backyard. "All of us, my family and the neighbors, brought them towels and water," Jandali told the paper. "They were so cold."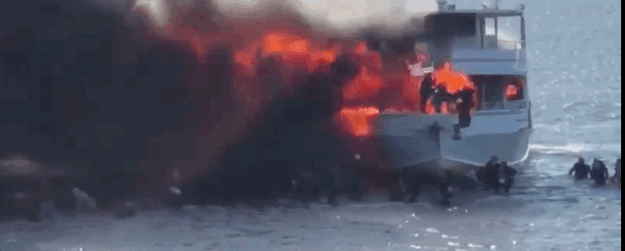 Bakr Jandali
In a statement, Tropical Breeze Casino Cruise said the company was "deeply saddened" by the death of the passenger and noted that there had not been any previous issues with the boat. However, DeCanio told the Times that the captain had been complaining of engine issues.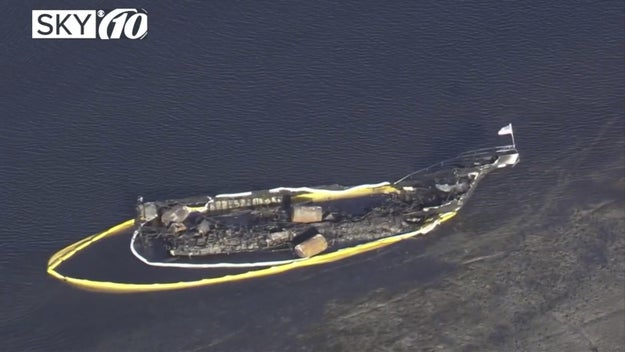 In this frame from video, the remains of a shuttle boat that caught fire off Florida's Gulf Coast float on Monday, Jan. 15, 2018, in Port Richey.
AP
The US Coast Guard, which helped rescue passengers, is now investigating.
Source: https://www.buzzfeed.com/usnews.xml