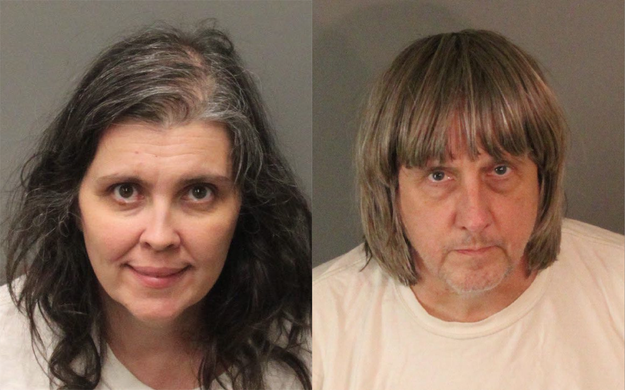 Riverside County Sheriff's Department
A 17-year-old girl who said she was being held captive by her parents escaped from her Southern California home on Sunday and alerted authorities, who rescued her 12 siblings from the residence, some of whom were shackled to their beds and malnourished.
The girl, who escaped from the house Sunday morning, used a cell phone to call 911 and told police her brothers and sisters were being held captive in the Perris, California, home and some were "bound with chains and padlocks," the Riverside County Sheriff's Department said.
The girl's parents, David Allen Turpin, 57, and Louise Anna Turpin, 49, were arrested and booked on torture and child endangerment charges. Their bail has been set at $9 million each.
Despite being 17, police said the girl who alerted them appeared around 10 years old and was "slightly emaciated."
Officers from the sheriff's department and Perris Police Department found the parents at home, where they also discovered "several children shackled to their beds with chains and padlocks in dark and foul-smelling surroundings." The sheriff's department said the parents could not explain why the children were tied up.
Although authorities at first believed they'd found 12 children inside the filthy home, they were "shocked" to discover seven were actually adults. They ranged in age from 2-29, and appeared malnourished, police said.
After being rescued, the victims told police they were starving, and were given food and drinks. The siblings were later admitted to hospitals for treatment.
It's unknown how long the children were held captive.
Source: https://www.buzzfeed.com/usnews.xml