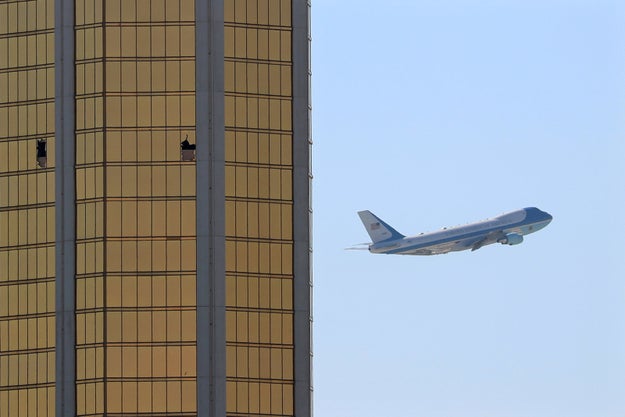 Broken windows from where shots were fired are seen on the Mandalay Bay hotel in Las Vegas on Oct. 4, 2017.
Mike Blake / Reuters
The man who opened fire from his Las Vegas hotel room in October, killing 58 people, acted alone, but investigators still haven't found a motive for the attack, the local sheriff told reporters Friday.
The shooting, which injured more than 800 people, happened the night of Oct. 1 when Stephen Paddock, 64, opened fire from the window of his Mandalay Bay hotel room. Of those injured, 422 suffered injuries from "some form or fashion gunfire," Las Vegas Sheriff Joe Lombardo said Friday.
Lombardo also said Paddock investigators do not anticipate charges against his girlfriend, Marilou Danley, who was out of the country at the time of the shooting.
Lombardo held the news conference ahead of taking the unusual step of releasing a preliminary investigative report, which he said would provide a detailed outline of the events leading up to the attack.
This is a developing story. Check back for updates and follow BuzzFeed News on Twitter.
LINK: These Are The Victims Of The Las Vegas Shooting
Source: https://www.buzzfeed.com/usnews.xml