Texas authorities wouldn't release further details. Several gymnasts have said that Dr. Larry Nassar abused them there.
Texas authorities told BuzzFeed News on Tuesday there is an "active investigation" underway into Karolyi Ranch, the former USA Gymnastics national team training center.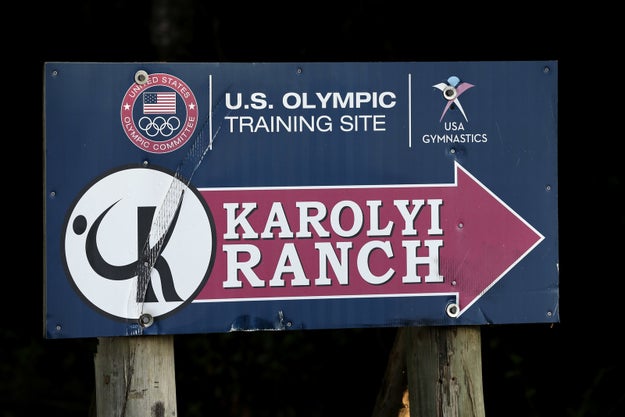 David J. Phillip / AP
Walker County Sheriff's Office spokesperson Marlene Wells would not offer any further details.
BuzzFeed News has reached out to lawyers who represent the ranch owners in a separate legal matter. A number linked to the ranch rung out on Tuesday.
Many gymnasts have come forward to say they were abused by former team doctor Larry Nassar at the Texas training facility.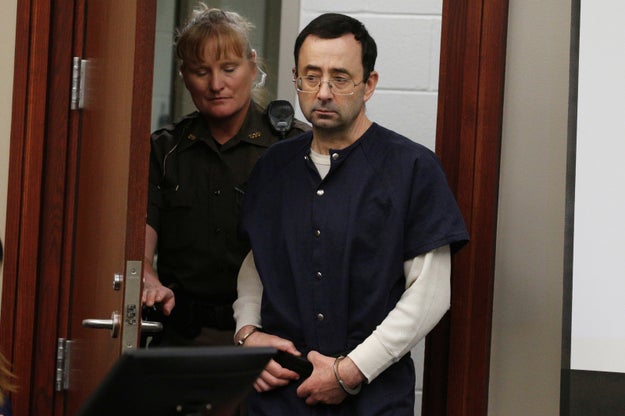 Brendan Mcdermid / Reuters
USA gymnast Maggie Nichols said in a letter in January that she was sexually abused by Nassar at the ranch.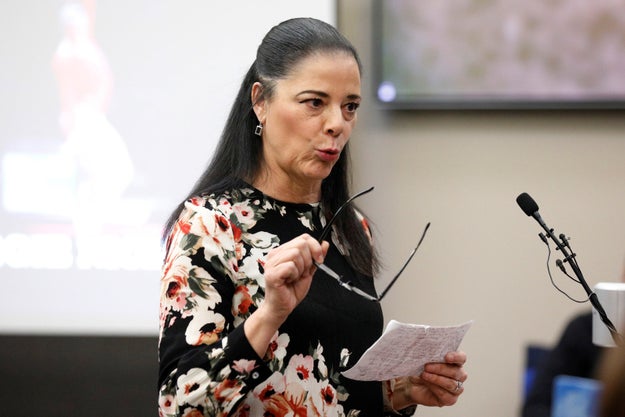 Maggie Nichols
Brendan Mcdermid / Reuters
"I started to have back problems while at a National Team Camp at the Karolyi Ranch. This is when the changes in his medical treatments occurred," Nichols wrote. "I remember he took me into the training room, closed the door and closed the blinds. At the time I thought this was kind of weird but figured it must be okay … but then he started touching me in places I really didn't think he should."
As did Olympic gold-medalist Aly Raisman. At Nassar's ongoing sentencing hearing, she said it was a place where "so many of us were abused."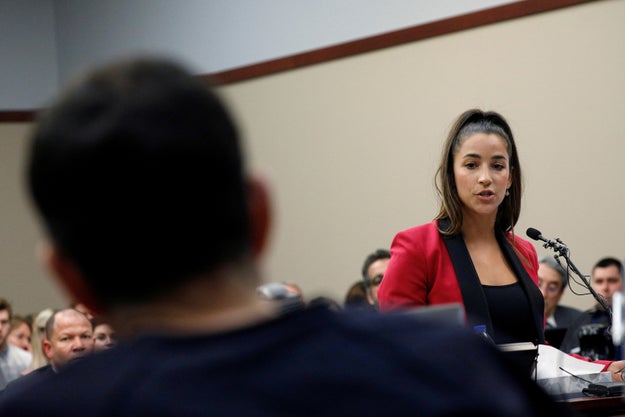 Brendan Mcdermid / Reuters
Although USA Gymnastics announced last week that they would no longer be using the facility for training purposes, for the past sixteen years the ranch has been the most important training facility for United States gymnastics.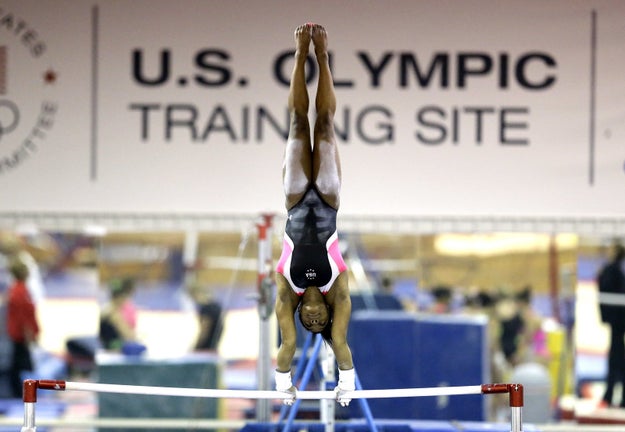 Biles training at the Karolyi Ranch
David J. Phillip / AP
"After nearly four decades of spiriting young gymnasts towards greatness in sport, our yearly tradition of the Karolyi's Gymnastics Camp has come to an end. Bela, Martha, and the rest of the camp staff wish to sincerely thank all participants, USA Gymnastics, and everyone who has been a part of our extended family for 35 years of unforgettable memories," the ranch's website reads.
The Karolyi Ranch is owned by coaches Bela and Martha Karolyi, retired national team coordinators and the pioneers of the centralized training program used by USA Gymnastics. They defected to the US from Romania in 1981.
Bob Levey / Getty Images
They have denied knowing about any abuse taking place at the ranch. "The Karolyis did not have any knowledge of any complaint from anyone concerning any athlete's alleged mistreatment by Dr. Nassar until they learned of his dismissal from USA Gymnastics during the summer of 2015," a lawyer for the couple told People.
Bela became internationally known when he carried injured gymnast Kerri Strug off the mat in the 1996 Olympics right after her legendary vault that won the USA the gold medal.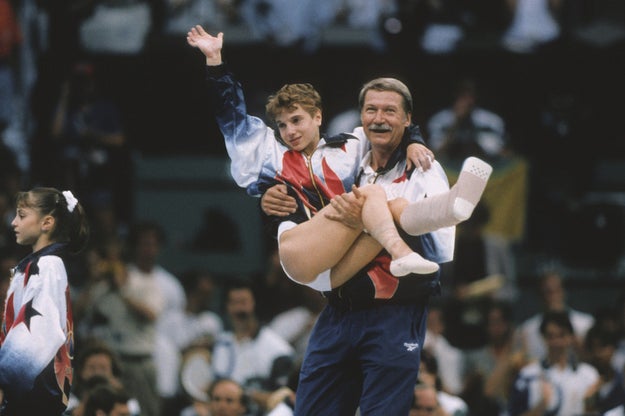 David Madison / Getty Images
The ranch is located about 45 minutes north of Houston in Huntsville, Texas, and is set inside the Sam Houston National Forest.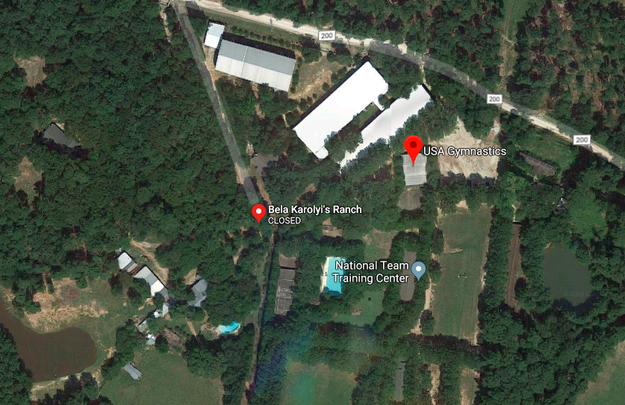 Google Maps
The 2,000 acre ranch boasts three gymnastics gyms; medical and rehab facilities; housing for up to 300 athletes, coaches and administrators; a dining hall; a dance studio; and an Olympic-size swimming pool among its many amenities.
When Bela Karolyi was named the national team coordinator in January 2000, he mandated that every member of the USA gymnastics national team attend monthly training camps at the ranch in Texas. Martha continued the practice when she took over the title in 2001.
Amy Sancetta / AP
According to USA Gymnastics, national team members and their coaches report to Karolyi Ranch every four to six weeks to train with the national coaches.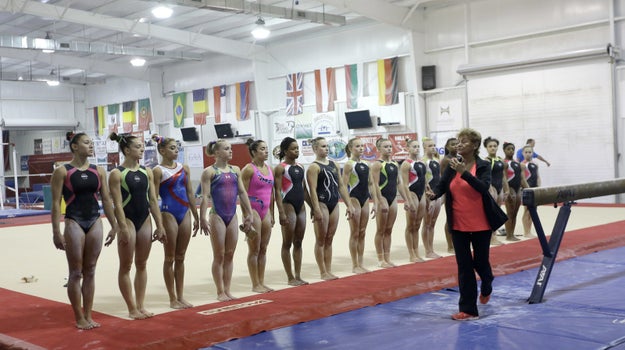 David J. Phillip / AP
"This allows them to train in the comfort of their personal gym and hometown, but also provides the opportunity to benefit from the expertise of the coaching staff on a regular basis," USA Gymnastics says on its website.
Elite gymnasts refer to this monthly mandatory training session as "camp."
In 2012, Olympic medalist Shawn Johnson described the schedule for these monthly training sessions in a blog post for ESPN.
When we're there, we wake up around 6:45 a.m. and head straight for breakfast. Most of the girls grab eggs and coffee before we go back to our cabins and get ready to hit the gym. National team coordinator Martha Karolyi has an unwritten rule: If you're not 30 minutes early to practice, you're late. So although practice starts at 8:30, we all get there at 8. We get heat packs, get taped and do whatever we need to get ready, then sit in a loose circle on the floor and wait. At 8:30 on the dot, Martha walks out of the office. It's a signal — we stand up, line up and address her. She gives our assignments for the day, and we start practice.

…

The morning practice ends around noon, then we do physical therapy if we need it. Some gymnasts need ice, while others get massages. Then it's straight to lunch, which is usually some sort of chicken dish, or occasionally salmon, with salad and bread and more fruit. People often ask if we're on a strict diet. It is super-healthy — there's definitely no dessert — but we're fed good food and we're taken care of.
Athletes chosen to represent the United States in major competitions are judged based on their performances at the Karolyi Ranch during these sessions.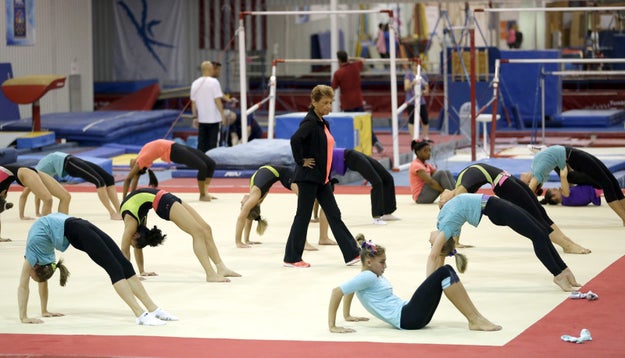 David J. Phillip / AP
Even for the Olympics, the Olympic Trials wouldn't necessarily determine who was going to compete for the United States, because Martha would hold mock meets at the ranch before making her final decision.
"It was almost like anything you did before the camp selection didn't really matter," Carly Patterson, the 2004 all-around Olympic champion said in a 2012 Time profile of the Karolyi Ranch. "Once again, you had to prove yourself all over. That was definitely very scary."
Athletes roomed together while coaches were housed in a different area from their trainees.
Many former national team members have spoken out about what they said were grueling conditions at the Karolyi Ranch.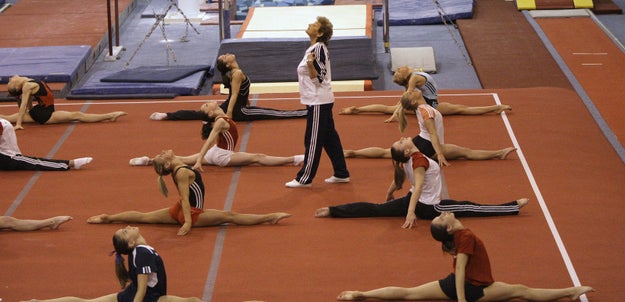 David J. Phillip / ASSOCIATED PRESS
In her testimony at Nassar's sentencing today, former US national team member Mattie Larson, 25, described the "eerie" and "prison-like" environment at the Karolyi Ranch and how its isolated location allowed the doctor to prey on the young athletes.
Larson said that Nassar used the athletes' grueling schedule and the restrictive diets they were forced to follow to groom his victims, describing him as "one of the only nice adults I had in my life at the time."
A 2016 lawsuit filed against Nassar, USA Gymnastics and the Karolyis alleged that they "instituted a regimen of intimidation and fear" at the ranch.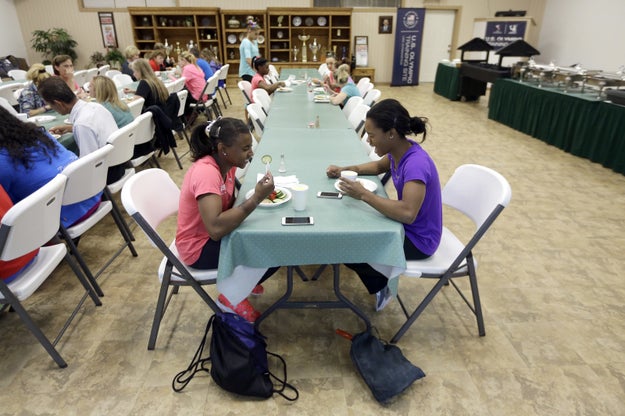 David J. Phillip / AP
Gary Jewell, an attorney for the Karolyis told USA Today in 2017 that the couple "vehemently deny" any allegations of wrongdoing. And the New York Times has reported that the Karolyis said they are not at fault.
BuzzFeed News reached out to Jewell and several other lawyers who, according to court documents, represent the couple, for comment.
Many gymnasts have criticized USA Gymnastics for failing to protect or listen to them — and pointed to the fact that the ranch was still being used as a training facility as recently as last week.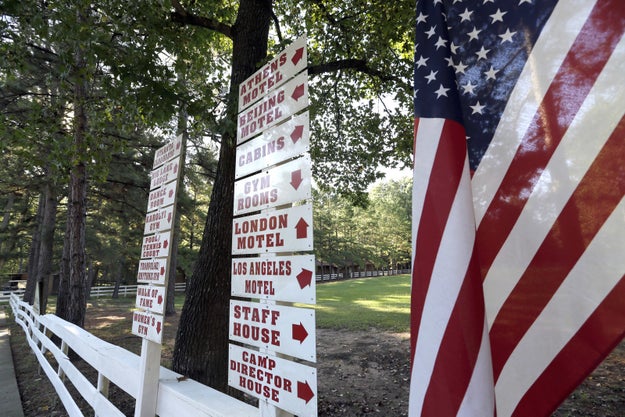 David J. Phillip / AP
"I hope they listen and I hope they don't make any of the girls go back to the ranch," Raisman said in an interview with ESPN. "No one should have to go back there after so many of us were abused there."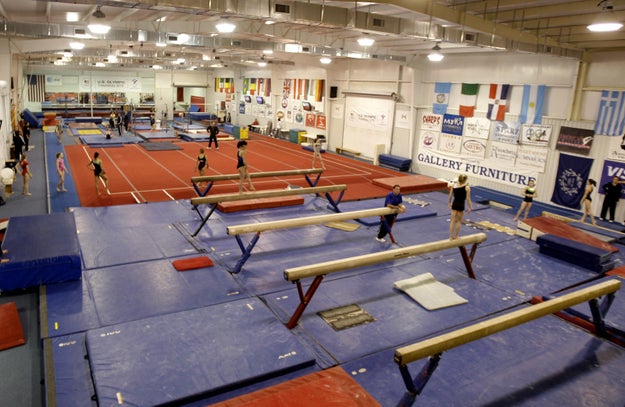 Bob Levey
LINK: "A Monster Of A Human Being": Here's McKayla Maroney's Powerful Statement About The Gymnastics Doctor Who Abused Her
LINK: Here's Every Word Of Olympic Gymnast Aly Raisman's Courtroom Statement To Her Sexual Abuser
LINK: "You Are The Spawn Of Satan": Abuse Victims Address Former USA Gymnastics Doctor In Court
LINK: Aly Raisman Slammed USA Gymnastics And Said The Organization "Is Rotting From The Inside"
Source: https://www.buzzfeed.com/usnews.xml