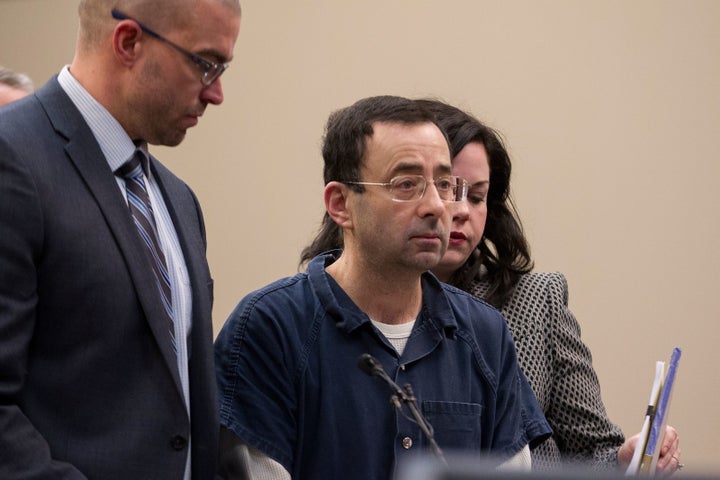 Geoff Robins / AFP / Getty Images
Larry Nassar, the former USA gymnastics coach who sexually abused young athletes under the guise of medical treatment, was sentenced to 40 — 175 years behind bars.
"I just signed your death warrant," Judge Rosemarie Aquilina said.
Nassar pleaded guilty in November to 10 counts of first-degree criminal sexual abuse for molesting young athletes. He has already been sentenced to 60 years in federal prison on child pornography charges.
Following 7 days of victim impact statements the final person to address the court was Rachael Denhollander, the first woman to publicly speak out against Nassar in a 2016 IndyStar investigation. In a powerful statement, Denhollander asked the judge to give Nassar the maximum sentence, asking "how much is a little girl worth?"
Nassar addressed his victims saying, "your words these past several days have had a significant emotional effect on myself and has shaken me to my core … I will carry your words with me for the rest of my days."
Judge Rosemarie Aquilina seemed to question the sincerity of Nassar's statement by reading from a letter he submitted to the court last week saying he wasn't sure he could mentally handle the number of victim impact statements.
Aquilina read a section of the letter in which Nassar writes he is a good doctor because his patients came back to him repeatedly for treatments.
"The media convicned them everything I did was wrong," the letter reads. "Hell hath no fury like a woman scorned."
Aqulina slammed Nassar saying what he did was not a medical treatment.
"You have not yet owned what you did," she said. "You still think somehow you are right, that you are a doctor, that you don't have to listen, and that you did treatment? I wouldn't send my dogs to you, sir."
More than 140 women, including Olympic medalists McKayla Maroney, Simone Biles, Gabby Douglas, and Aly Raisman, have accused Nassar of abuse, and nearly 170 spoke during his seven-day sentencing hearing in the Ingham County courthouse in Michigan.
The women accused Nassar of inserting ungloved fingers into their vaginas and rectums while they believed they were being treated for sports injuries and pains.
"He abused my trust, he abused my body, and he left scars on my psyche that will never go away," Maroney said in a statement provided to the court during sentencing. "It all started when I was 13 or 14 years old. It didn't end until I left the sport."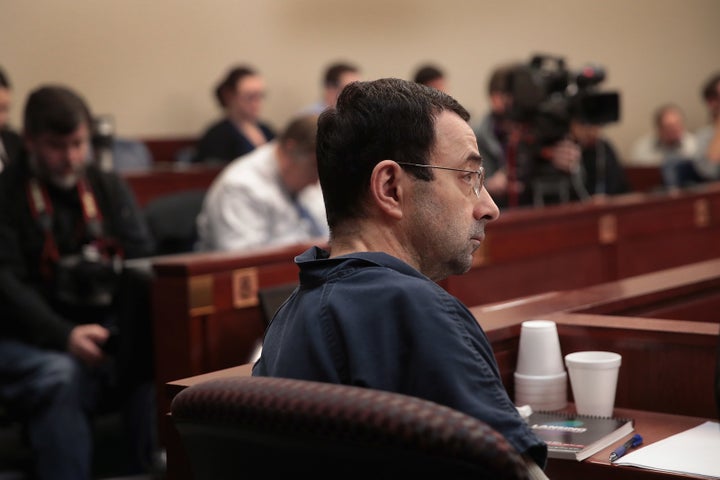 Scott Olson / Getty Images
Six-time Olympic medalist Aly Raisman used her impact statement to slam USA Gymnastics, saying the organization is "rotting from the inside" for empowering and enabling Nassar's sexually abusive behavior.
"I will not rest until every last trace of your influence on this sport has been destroyed like the cancer it is," Raisman said in court.
Several athletes criticized USA Gymnastics and Michigan State University, saying they reported Nassar but nothing was done to stop his abusive behavior.
According to a Detroit News investigation, at least 14 people at Michigan State University received reports about Nassar's behavior in the 20 years before his arrest. The National Collegiate Athletic Association on Wednesday sent a letter of inquiry into how Michigan State University handled reports of Nassar's abuse.
Additionally, authorities are investigating the Karolyi Ranch, the Texas training facility where several gymnasts, including Raisman, Maggie Nichols, and Simone Biles, said they were sexually abused.
USA Gymnastics announced last week that it will no longer use the facility for training purposes. The ranch has been the most important training facility for US gymnastics for the past 16 years.
LINK: Authorities Are Investigating Karolyi Ranch, Where Gymnasts Said They Were Sexually Abused
LINK: Aly Raisman Slammed USA Gymnastics And Said The Organization "Is Rotting From The Inside"
LINK: "A Monster Of A Human Being": Here's McKayla Maroney's Powerful Statement About The Gymnastics Doctor Who Abused Her
LINK: "You Are The Spawn Of Satan": Abuse Victims Address Former USA Gymnastics Doctor In Court
LINK: Simone Biles Said She Was Sexually Abused By Former USA Gymnastics Doctor Larry Nassar
Source: https://www.buzzfeed.com/usnews.xml