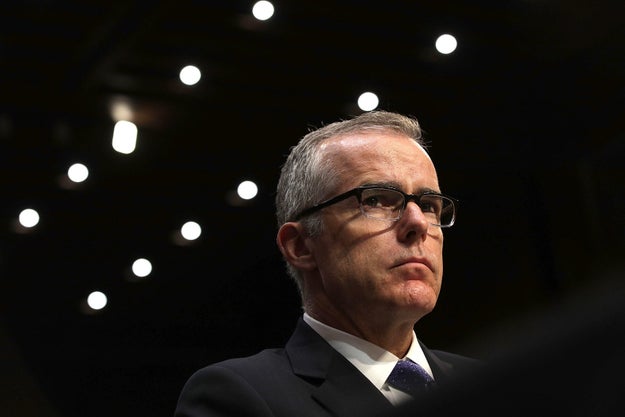 Alex Wong / Getty Images
President Trump reportedly asked the acting director of the FBI who he voted for during an Oval Office meeting last year, indicating the president's efforts to determine the loyalties of high ranking government officials may have been more widespread than previously known.
Shortly after firing FBI Director James Comey, Trump asked Andrew McCabe about his vote for president during the 2016 election, according to several unnamed officials who spoke with the Washington Post. The president allegedly demanded a loyalty pledge from Comey, who refused to do so, then ultimately fired him in May 2017.
McCabe, the deputy director of the FBI at the time of Comey's firing, then became acting director of the nation's top law enforcement agency.
Trump soon summoned McCabe to the Oval Office to ask about his vote in the 2016 presidential election, the Post reported. McCabe told Trump he didn't cast a vote, and found the conversation "disturbing," an unnamed official told the newspaper.
The president also reportedly "vented his anger" at McCabe over campaign contributions made to his wife's failed Virginia state senate bid. The contributions came from a political action committee overseen by a friend of Democratic presidential candidate Hillary Clinton, the Post reported.
The conversation between Trump and McCabe also reportedly bothered other officials at the agency.
McCabe later returned to his position as deputy director after Christopher Wray took over the FBI's top job in August.
Neither the White House nor the FBI immediately responded to BuzzFeed News questions about the conversation Tuesday.
News of the conversation came amid special counsel Robert Mueller's ongoing investigation into Russian meddling in the 2016 election. Mueller has interviewed multiple former and current Trump administration officials, and the investigation reportedly is zeroing in on whether Trump committed obstruction of justice.
Mueller is also interested in the conversation between Trump and McCabe, according to an official who spoke with the Post.
Trump has been openly critical of McCabe, including in December when he tweeted about McCabe's wife, as well as the FBI official's pending retirement.
During a press conference Friday afternoon, White House spokesperson Sarah Huckabee Sanders was asked if Trump believed McCabe should step down.
Sanders said she hadn't directly asked Trump that question, but said the president has respect for members of the FBI, as well as "a great deal of confidence" in current director Christopher Wray.
"I know the president has complete confidence in director Wray and his ability to determine if there are any issues and to make those decisions," she said.
LINK: President Trump Has Fired FBI Director James Comey
Source: https://www.buzzfeed.com/usnews.xml