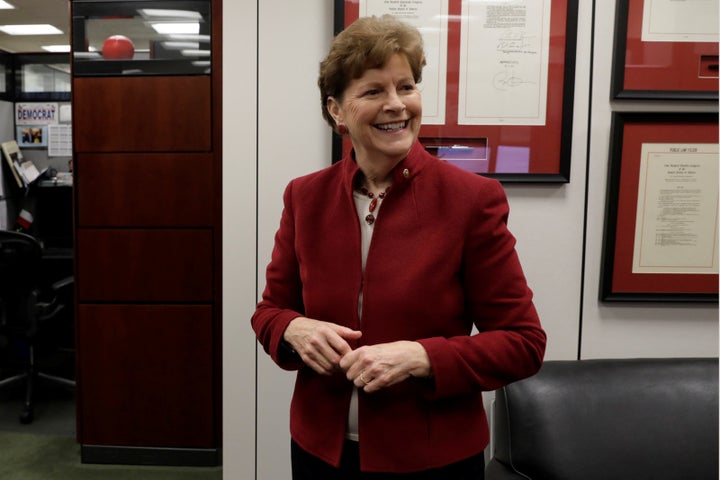 Yuri Gripas / Reuters
Sen. Jeanne Shaheen has called for an investigation into USA Gymnastics and the US Olympic Committee after disgraced doctor Larry Nassar was sentenced to 40 to 175 years in prison for sexually abusing young athletes under the guise of medical treatment.
In a letter sent to Senate Majority Leader Mitch McConnell and Minority Leader Chuck Schumer on Wednesday, the Democratic senator from New Hampshire called for a select committee to investigate the roles the US Olympic Committee and USA Gymnastics had "in allowing serial pedophile Dr. Larry Nassar unsupervised access to hundreds of girls across three decades."
In a call with reporters Thursday, Shaheen said she plans to introduce a resolution to create the committee with Sen. Joni Ernst, a Republican from Iowa.
Several women who spoke at Nassar's seven-day sentencing hearing said officials at USA Gymnastics did not take their reports of abuse seriously.
On Monday, the top three board members of USA Gymnastics resigned amid allegations of not protecting athletes against Nassar.
On Wednesday, the chief executive officer of the USOC, Scott Blackmun, issued a statement apologizing to Nassar's victims.
"We are sorry for the pain caused by this terrible man, and sorry that you weren't afforded a safe opportunity to pursue your sports dreams," Blackmun said.
While Nassar has been effectively sentenced to life in prison, not all parties have been held accountable, Shaheen wrote in her letter.
"The US Olympic Committee and USA Gymnastics helped to create perfect environment for a child predator," Shaheen told reporters Thursday.
Her letter states that the two organizations have serious questions to answer as to why Nassar's behavior was allowed to continue for as long as it did.
Shaheen went on to say that the USOC is a federally chartered institution and the Senate's investigation should include testimony under oath from coaches, executives, and other personnel. She is also calling for the authorization to subpoena internal communications and relevant documents as part of the investigation.
Shaheen wants the select committee to be created before the Winter Olympics begin Feb. 9.
Requests for comment from Democratic and Republican Senate leaders were not immediately returned.
Source: https://www.buzzfeed.com/usnews.xml