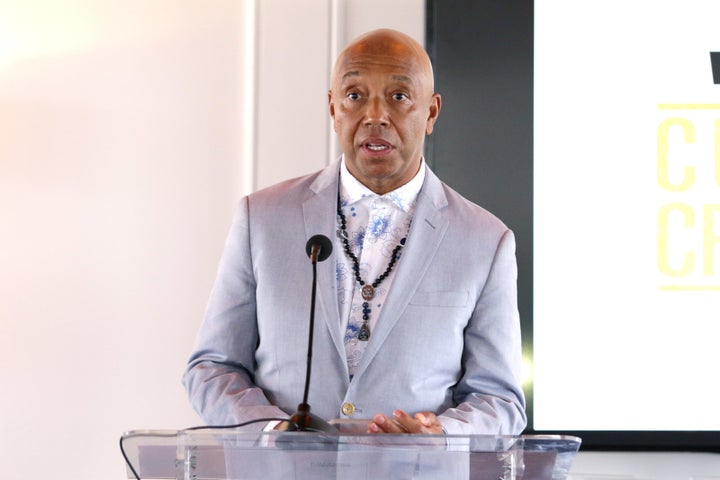 Jerritt Clark / Getty Images
Music mogul Russell Simmons is being sued for $5 million by a woman who alleges that he raped her in 2016 at his home in Los Angeles.
Jennifer Jarosik filed a federal lawsuit against Simmons on Wednesday, alleging sexual assault and battery, as well as intentional and negligent infliction of emotional distress.
Jarosik, 37, said in the lawsuit that she was pursuing her passion and dream of producing a documentary when she was "sexually battered, and raped" by Simmons after she approached him to be interviewed.
According to her lawsuit, Jarosik said she met Simmons in 2006 in New York City. Later, she said Simmons later offered to participate in her documentary and co-produce and finance the project. In August 2016, she said Simmons invited her to his Los Angeles home on the pretext that they would discuss the project. But instead, she alleges he insisted she have sex with him. When she said no, Jarosik alleges that Simmons got aggressive, pushed her onto a bed, and raped her.
In December, 10 women came forward with allegations that Simmons raped or sexually harassed them in reports first published by the New York Times and Los Angeles Times. New York City police confirmed at the time that they were looking into some of the allegations.
"It's time that the hip hop industry face the music and recognize that the deep rooted history of misogyny and discrimination against women in the music industry has to come to an end. #TimesUp," Jarosik's attorney, Perry C. Wander, told BuzzFeed News in a statement. "It's not enough to apologize and step away from your business, convert a yoga studio to a nonprofit and still draw a salary and be worth $500 million and do nothing but apologize. As James Franco said, 'if I need to make restitution I'll do that.'"
Simmons' publicist did not immediately respond to BuzzFeed News' request for comment.
LINK: The NYPD Has Opened An Investigation Into Russell Simmons Amid Sex Assault Allegations
Source: https://www.buzzfeed.com/usnews.xml