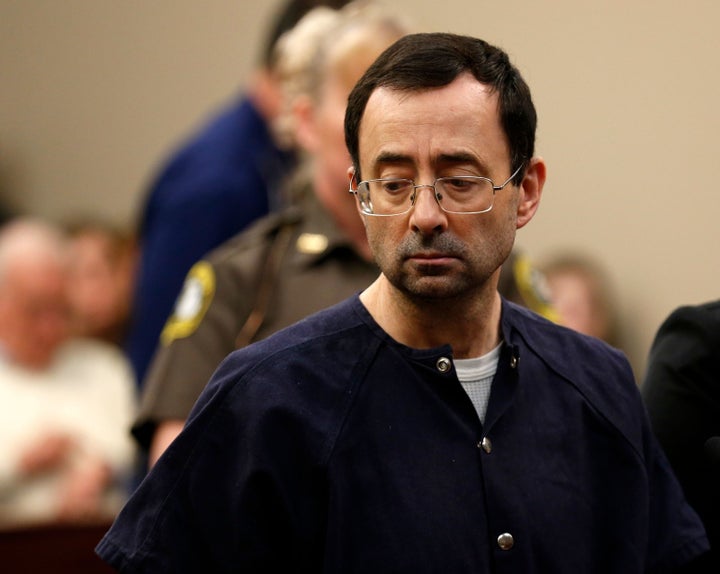 Former USA Gymnastics doctor Larry Nassar in Ingham County Circuit Court.
Jeff Kowalsky / AFP / Getty Images
The US Olympic Committee sent a letter to the USA Gymnastics board on Thursday threatening to terminate its status as the governing body of the sport unless all current members of the board of directors resign by next Wednesday.
Scott Blackmun, the CEO of the US Olympic Committee, sent the letter by email outlining six conditions USA Gymnastics must meet or the committee will "have no choice" but to pursue terminating USA Gymnastics' status as the administer of the sport.
The email comes a day after former sports doctor Larry Nassar was sentenced to up to 175 years in jail for sexually assaulting young athletes, including Olympic champions.
"We do not base these requirements on any knowledge that any individual USAG staff or board members had a role in fostering or obscuring Nassar's actions," Blackmun wrote. "Our position comes from a clear sense that USAG culture needs fundamental rebuilding."
Nassar worked for USA Gymnastics for decades as a sports doctor. During Nassar's sentence hearing, many women specifically called out the failure of USA Gymnastics and the US Olympic Committee in protecting them.
"I have represented the USA in two Olympics and have done so successfully," Olympic gold medalist Aly Raisman, who accused Nassar of abuse, said at the hearing. "And both USA Gymnastics and the US Olympic Committee have been very quick to capitalize and celebrate my success, but did they reach out when I came forward? No."
Olympic gold medalist Aly Raisman speaks at the hearing for Nassar.
Brendan Mcdermid / Reuters
Blackmun wrote in his email Thursday that "we must take further action to ensure that it cannot happen again."
Four members of the USA Gymnastics board quit on Monday, but Blackmun said "reform must start with an entirely new board" and demanded all remaining members resign. An interim board must be in place by Feb. 28, he said, and will have 12 months to replace the interim directors. Those forced to resign cannot return as new board members.
USA Gymnastics must also cooperate with the independent investigation into who knew, who should have known, and when they knew about reports of abuse by Nassar, the letter said.
The board must also meet and discuss plans for implementation of the 70 recommendations that were made by former federal prosecutor Deborah Daniels, who reviewed USA Gymnastics and found that it needed a "complete cultural change." After each meeting, USA Gymnastics must report the progress to the US Olympic Committee.
The USA Gymnastics staff and board members must also undergo a special Safe Sport training and complete a comprehensive ethics training unit.
In response to the letter, USA Gymnastics said it "completely embraces the requirements."
"We understand that the requirements imposed by the letter will help us enhance our ability to build a culture of empowerment throughout the organization, with an increased focus on athlete safety and well-being," a statement said.
Prior to Monday, former CEO and President Steve Penny was the only USA Gymnastics official to resign under pressure from the US Olympic Committee.
While many of the gymnasts said they were assaulted at Karolyi Ranch, the national team training center in Texas, USA Gymnastics only announced last week that it would no longer use the facility.
Lou Ann Simon, the president of Michigan State University, where Nassar was also employed for decades, resigned on Wednesday night after the sentencing hearing.
LINK: Former Gymnastics Doctor Sentenced To 40 To 175 Years For Sexually Abusing Young Athletes
LINK: 133 People Publicly Confronted The Doctor Who Sexually Abused Young Women. Here Are Their Most Powerful Quotes.
LINK: Michigan State University Is Under Investigation For How It Handled The Doctor Who Sexually Abused Gymnasts For Decades
LINK: Michigan State University President Resigns In Wake Of Larry Nassar Sex Abuse Scandal
LINK: Michigan State University Is Under Federal Investigation Over Larry Nassar's Sex Crimes
LINK: A Senator Has Called For An Investigation Into USA Gymnastics Over The Larry Nassar Sex Abuse Scandal
Source: https://www.buzzfeed.com/usnews.xml