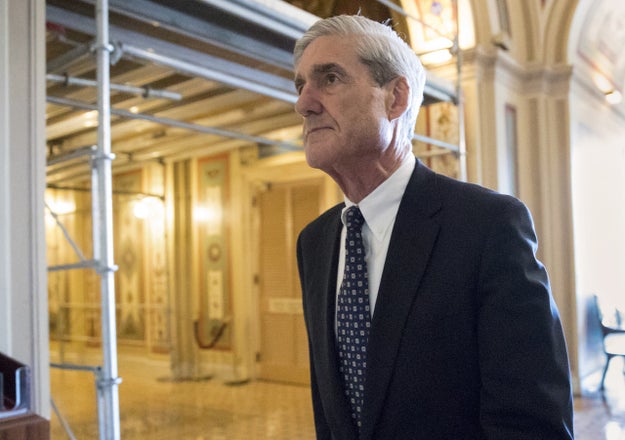 Special counsel Robert Mueller.
J. Scott Applewhite / AP
President Trump ordered the firing of special counsel Robert Mueller last June, but backed down when the White House counsel threatened to quit over the decision, the New York Times reported Thursday night.
The revelation marks the first reported time the president sought the firing of Mueller, whose team has been looking into Russian meddling in the 2016 election and the possible involvement of Trump campaign officials.
A spokesperson for the special counsel's office declined to comment to BuzzFeed News about the report. White House officials did not immediately return requests for comment.
The president's lead private attorney, John Dowd, also declined to comment.
Trump's order to fire Mueller came amid reports Mueller and his investigative team were looking at possible obstruction of justice by the president.
Rumors that the president was considering firing Mueller, and possibly igniting a political firestorm, were indeed spreading back in June when Chris Ruddy, chief executive of Newsmax and a a friend of Trump told PBS NewsHour's Judy Woodruff, "I think he's considering perhaps terminating the special counsel. I think he's weighing that option."
Ruddy had been spotted by reporters leaving the White House that week
According to the Times report, Trump argued that Mueller had conflicts of interest that should disqualify him from leading the investigation, including a previous dispute over fees at the Trump National Golf Club in Virginia, working at a law firm that had previously represented Trump's son-in-law Jared Kushner, and having interviewed to possibly return to lead the FBI after the firing of James Comey.
Rather than follow through on the president's order, the Times reported, White House Counsel Don McGahn threatened to resign.
McGahn reportedly told White House officials he disagreed with Trump's argument, and that firing Mueller would have a catastrophic effect on the presidency, the Times reported.
The president's lawyer, Ty Cobb, declined to comment to the Times citing the special counsel investigation.
President Trump was also considering firing Deputy Attorney General Rod Rosenstein, the second-in-command in the Department of Justice who has been overseeing the investigation ever since Attorney General Jeff Sessions recused himself, according to the report.
Rachel Brand, the Department of Justice's Associate Attorney General, would have then taken over Rosenstein's responsibilities in the Russian investigation.
LINK: Attorney General Jeff Sessions Sat Down With Special Counsel Mueller's Office
Source: https://www.buzzfeed.com/usnews.xml