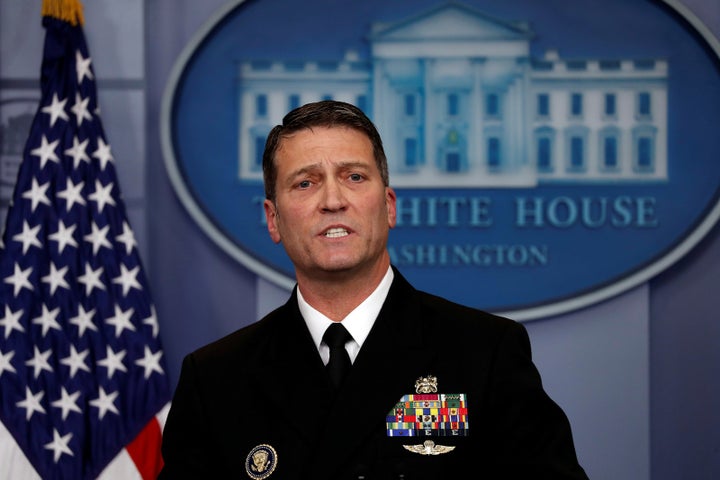 Carlos Barria / Reuters
President Trump's embattled nominee to head the Department of Veterans Affairs, Ronny Jackson, has withdrawn his name from consideration, Jackson announced Thursday.
"Going into this process, I expected tough questions about how to best care for our veterans, but I did not expect to have to dignify baseless and anonymous attacks on my character and integrity," the statement said.
Jackson, who serves as the White House physician, had faced allegations of alcohol abuse, overprescribing drugs, and leading a "toxic" work environment. The Senate Veterans Affairs Committee had scheduled Jackson's confirmation hearing for Wednesday but was forced to delay it.
On Monday, Trump signaled the end of Jackson's nomination was near, telling reporters that if he were Jackson, he would drop out.
"If I were him — actually, in many ways I would love to be him — but the fact is I wouldn't do it. I wouldn't do it. What does he need it for?" Trump said, suggesting that Jackson drop out not because of the allegations, but because of partisan politics. "To be abused by a bunch of politicians that aren't thinking nicely about our country."
Trump quickly nominated Jackson, a United States Navy rear admiral, with few top aides looped into the decision, which he announced on Twitter late last month. Jackson did not go through the full formal processes that usually take place before the president decides on a cabinet official — no interview and little vetting or opposition research — to ensure a smooth Senate confirmation.
Jackson has been well-liked by presidents from both parties, and Trump was pleased with the way Jackson touted the president's "excellent" health for more than an hour at a White House press briefing in January. Jackson stood at the podium answering repeated questions about Trump's physical and cognitive health, saying the president had "great genes."
This is a developing story. Check back soon for updates and follow BuzzFeed News on Twitter.
Paul McLeod contributed to this report.
LINK: Senators Are Worried About How Trump Is Picking His Cabinet Secretaries
LINK: Trump Said That Ronny Jackson, His Nominee To Run Veterans Affairs, Should Drop Out
Source: https://www.buzzfeed.com/usnews.xml