Reuters
For the first time since the Korean War ended more than half a century ago, the leader of North Korea has visited South Korea, marking the beginning of historic peace talks between the two rival nations.
Friday's meeting between North Korean leader Kim Jong Un and South Korean President Moon Jae-in began as the two men shook hands across the demilitarized zone that has divided their countries since 1953. Kim then made history by stepping into South Korea, which is technically still at war with his country.
The meeting between Kim and Moon is set to take place at the Peace House on the southern side of the demilitarized zone, a 2.5-mile wide area that separates the two countries. On the agenda for the meeting is denuclearization, peace, and improvements in the relationship between the two countries. The two leaders also plan to plant a pine tree together as a symbol of peace and prosperity, stroll across a footbridge, and dine at a banquet.
The initial moments of the meeting were watched live around the world and displayed on public TV screens throughout South Korea. Shortly after the historic handshake, Kim wrote in a Peace House guestbook that "new history starts now; age of peace, from the starting point of history," Reuters reported.
As the meeting began, the White House said in a statement that "we wish the Korean people well."
"We are hopeful that talks will achieve progress toward a future of peace and prosperity for the entire Korean Peninsula," the statement added.
Friday's meeting is a result of negotiations led by Moon's ambitions to obtain peace between the neighboring countries. A secret meeting with then–CIA director Mike Pompeo in April also helped pave the way for a planned meeting between Kim and US President Donald Trump, which would be the first time a sitting US president and a leader of North Korea have met since 1953.
The White House statement Friday said the US looks forward to "continuing robust discussions in preparation for the planned meeting" between Trump and Kim.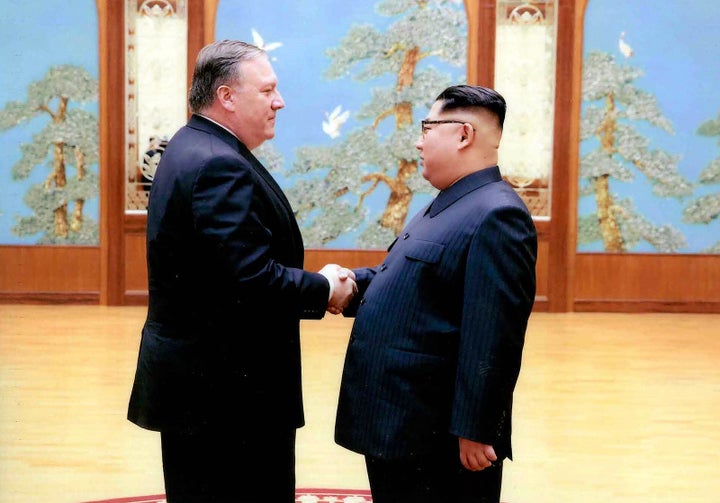 Then–CIA director Mike Pompeo shakes hands with North Korean leader Kim Jong Un in Pyongyang, North Korea, during a 2018 Easter weekend trip.
White House via AP
Pompeo's meeting with Kim was the highest-level contact between the US and North Korea since 2000, when then–secretary of state Madeleine Albright met with the current leader's father, Kim Jong Il.
This is a developing story. Check back soon for updates and follow BuzzFeed News on Twitter.
LINK: CIA Director Mike Pompeo Secretly Traveled To North Korea And Met With Kim Jong Un
Source: https://www.buzzfeed.com/usnews.xml