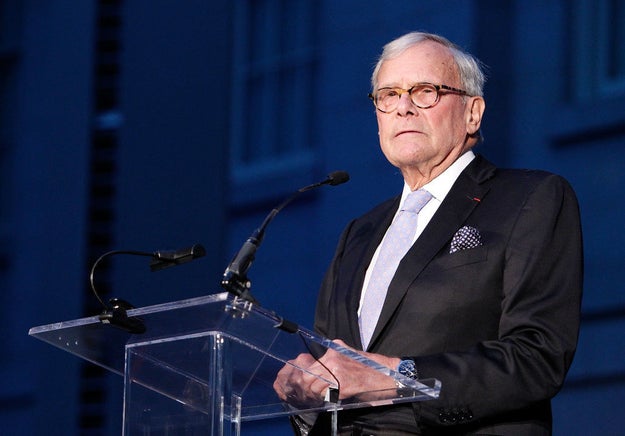 Tom Brokaw, NBC anchor and author, speaks at an event in 2017.
Paul Morigi
Tom Brokaw is being accused of groping and twice trying to forcibly kiss a younger NBC News colleague in the 1990s.
Variety and the Washington Post on Thursday published the account of Linda Vester, who alleges Brokaw repeatedly harassed and humiliated her when she was a young journalist trying to rise through the ranks of the network.
Friends who Vester told at the time corroborated her story to Variety and the Post, which also reviewed her diary entries that recorded the alleged interactions.
Brokaw was a marquee anchor for NBC, where he has hosted Today, NBC Nightly News, and at one point Meet the Press. He now serves as a special correspondent and works on documentaries.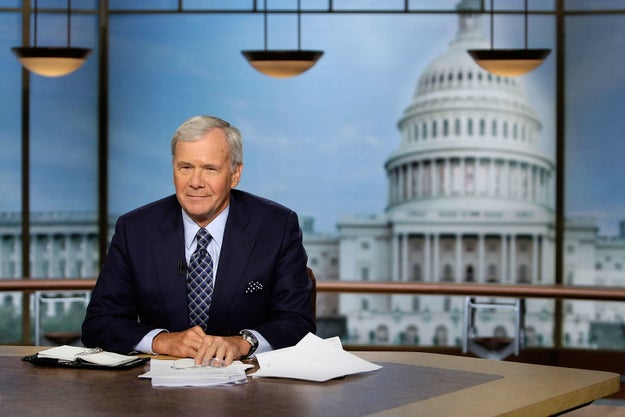 Tom Brokaw pauses during a taping of Meet the Press in 2008.
Alex Wong / Getty Images
NBC did not immediately return BuzzFeed News' request for comment, but in a statement to Variety issued through a spokesperson for the network, Brokaw, 78, disputed Vester's allegations as an inaccurate version of events.
"I met with Linda Vester on two occasions, both at her request, 23 years ago because she wanted advice with respect to her career at NBC," he said. "The meetings were brief, cordial and appropriate, and despite Linda's allegations, I made no romantic overtures towards her at that time or any other."
For her part, Vester said she's coming forward now to shed light on a culture of misconduct and lack of action at NBC, which recently fired one of its biggest news stars, Today co-host Matt Lauer, over similar allegations of sexual misconduct.
"I am speaking out now because NBC has failed to hire outside counsel to investigate a genuine, long-standing problem of sexual misconduct in the news division," Vester, 52, told the Post.
Another woman who spoke on the condition of anonymity told the Post that Brokaw acted inappropriately toward her in the 90s when she was a production assistant network, which Brokaw also denied.
Vester alleges the misconduct started in 1994, when she missed a shuttle from New York City back to Washington, DC, where she lived. That night, Vester said Brokaw showed up at her hotel room under the pretense of having been in the neighborhood.
After trying to get out of a conversation he insisted they have on her counch, Vester said in interviews with the Post and Variety that Brokaw "grabbed me behind my neck and tried to force me to kiss him."
"I was shocked to feel the amount of force and his full strength on me," Vester said.
But she said she was able to break away, stand up, and tell him: "Tom, I do not want to do this with you," adding that she had just been promoted as foreign correspondent in London and "didn't want to go down that road."
According to Vester, Brokaw responded, "I guess I should go," got up, and tried to kiss her again on the way out. She also alleges Brokaw grabbed her from behind in a conference room and tickled her waist in front of colleagues, humiliating her.
Vester, who reportedly does not intend to file a legal claim against Brokaw or NBC, said over and over again she told only friends and colleagues but made no official report out fear that it would derail her career.
Vester's attorney, Ari Wilkenfeld, said in a statement to BuzzFeed News that her client watched "as a number of brave women have come forward to report extreme forms of sexual harassment at NBC."
"She has also observed that the company's response does not appear to be aimed at producing a safer and more equitable workplace for women," Wilkenfeld said. "She felt it her duty to add her own story, not only to lend support to the other women who have already complained, but to demonstrate that this problem is not a new one, and that NBC needs to prioritize actually listening to and protecting their employees who have been victimized."
LINK: Katie Couric Says She's Separating "Truth From Fiction" In The Matt Lauer Allegations
Source: https://www.buzzfeed.com/usnews.xml