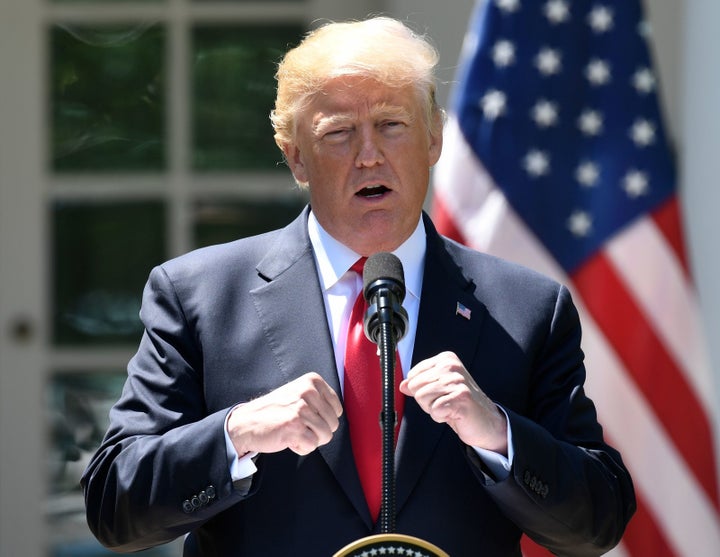 Saul Loeb / AFP / Getty Images
President Trump said he would not apologize for his rhetoric surrounding the travel ban, saying there's "no reason" to do so.
At a Monday press conference with Nigerian President Muhammadu Buhari, a reporter referenced last week's oral arguments regarding the president's third travel ban at the Supreme Court.
"Last week in the Supreme Court case over your travel ban, the lawyers for the opponents said if you would simply apologize for some of your rhetoric during the campaign, the whole case would go away," a Washington Times reporter said.
"I don't think it would, number one," President Trump said, cutting off S.A. Miller.
"And there's no reason to apologize. Our immigration laws in this country are a total disaster. They're laughed at all over the world. They're laughed at — for their stupidity. And we have to have strong immigration laws. I think if I apologize, it wouldn't make 10 cents' worth of difference to them. We have to have strong immigration laws to protect our country," Trump said.
BuzzFeed News / Via video-player.buzzfeed.com
The Trump administration's third travel ban is currently in effect, while court cases challenging the ban move ahead. Oral arguments were heard last week at the Supreme Court, and a decision over the legality of the ban is expected by the end of June.
LINK: The Supreme Court Finally Heard Arguments Over Trump's Travel Ban
LINK: A Newly Released Document Shows 1,903 People Were Stopped Under Trump's First Travel Ban
Source: https://www.buzzfeed.com/usnews.xml